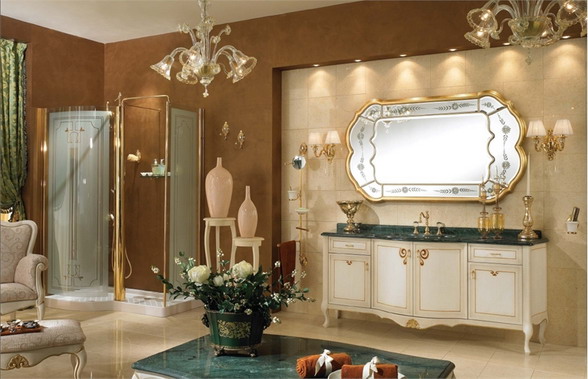 Bathrooms are often ignored while decorating dwellings in a stylish way. But with a little effort, even this area of the house can get an enticing appearance, which will be an extension of your personality. There are various ideas that can be incorporated while giving a cosmetic lift to the bathroom. Below are few tips that will help you decorate your bathroom and enhance its beauty further.
Bathroom tile choices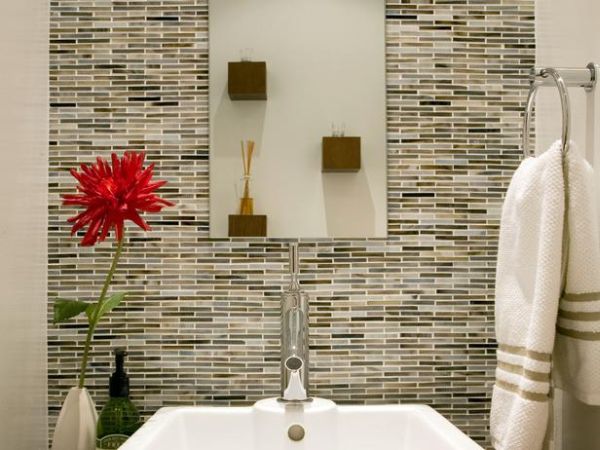 Give an all new face lift to your bathroom space with vivacious tiles, which definitely play a very important role while giving the area an inviting appeal. There is a sea of options available in the market, which includes glass tiles, ceramics, mosaic, etc. Apart from this, there is also an option to club tiles with lights, which will lend a magical sparkle to the bathroom space and these glittery tiles can be wedged both on the floor and walls. One can opt for special cuts and textures to enhance the bathroom decor further for a truly unique appearance. Combine a variety of sizes in numerous ways to give birth to a stunning background. Stick to a single color pallet or use a myriad of colors, the choice is yours. For a more royal look, opt for colors like copper and gold that come tagged with unending classiness.
Decorate bathroom with good light fixtures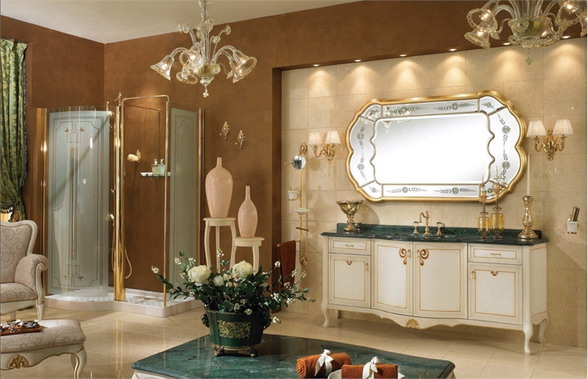 Bathrooms are often badly lit and give a feeling of being inside a cave. If you thought that great lighting options were not meant for washroom, then it's time you reboot your thoughts. Spice up the bathroom space with unending warmth and create a dream like atmosphere with awe-amazing light fixtures. These will illuminate the entire space and a well crafted option will double as a beautiful decoration piece as well. From ceiling lights to wall lamps, the options are endless. One can also fix mood lights, which will help unwind as you sit inside the bathtub and slip into a state of pure bliss. Good light fixtures will not only make the bathroom sparkle, but will also kill all the dullness and leave the area enriched.
Mirror miracles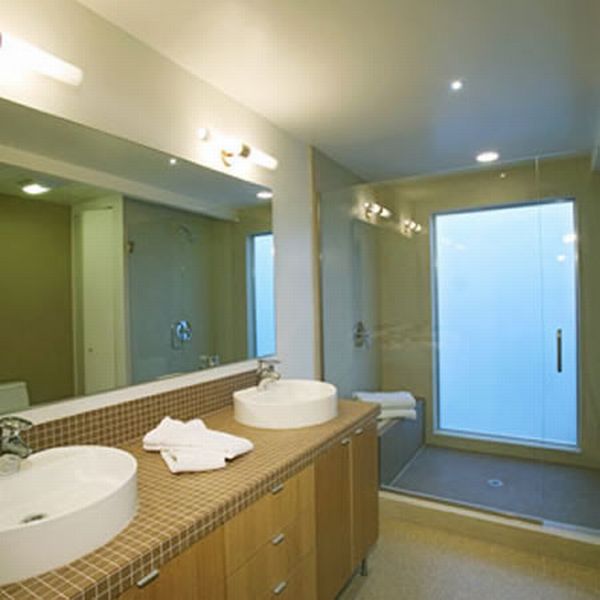 Mirrors are a great way to create a false spacious feel and also help brightening up the area as they reflect light. Hanging mirrors on opposite walls will make the space look larger and give an illusion of never ending space. So, get a little generous and not cut down on the usage of this amazing bathroom item. If you wish like keeping the overall look simple, then opt for borderless mirrors or one's that have a sleek border. You can also pep up dull looking mirrors by painting their sides with different designs (like floral patterns) or garland it with flowers for a personalized feel. Don't restrict yourself to rectangular options and do give a second thought of swapping the typical shape with round and oval options for a stunning effect.
Give your bathroom modern contemporary touch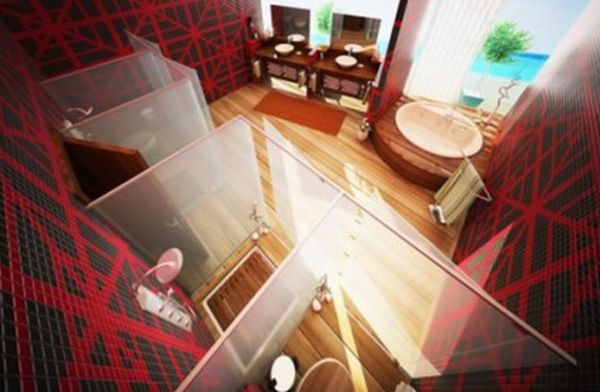 Thinking of remodeling your bathroom? Then why not give it a modern contemporary appeal that will sprinkle the aura of present times and is gaining immense popularity. Minimalism is the modern day slogan when it comes to redoing inside spaces and the same holds true for bathrooms as well. Give the area a clutter free and whimsical appearance by adding accessories that have a modern outline. Liven up your bath with fun new towel rods, chic lighting, well-crafted switches and textured tiles, to name a few. Make the space a luxurious haven and add layers of sophistication by introducing modern accessories, which will give out a contemporary feel.
Bathtubs and showers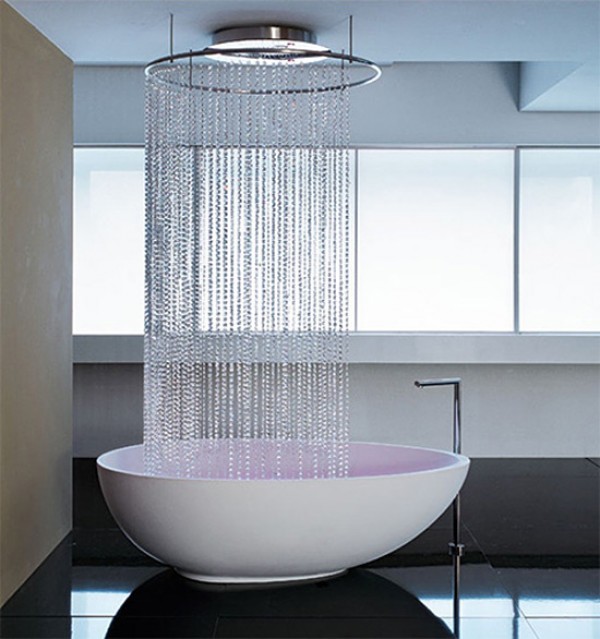 A bathroom space is incomplete without a bathtub and shower. These are central pieces that help us stay clean and in a hygienic condition. From Jacuzzis to steam showers, the options are endless. Bathtubs help us relax and soothe those frazzled nerves as one adds aromatherapy oils to water. So, install a bathtub that blends with the inside space. These are available in a variety of colors, shapes and sizes. Glass shower cabins will be a great pick and may feature rain heads mounted on the ceiling or steam heads fitted on the wall. Tub and shower areas can be further separated by placing a stylishly designed vanity. These stand alone showers and bathtubs are a symbol of great designing and will endow the user with a perfect showering experience.
Use faucets with star appeal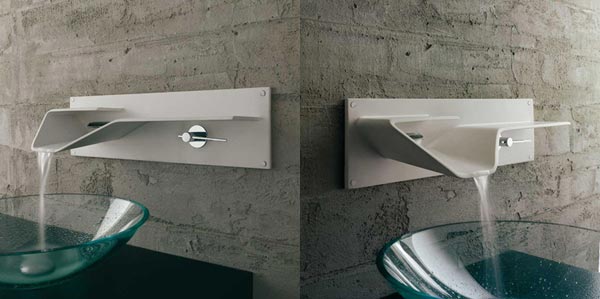 Gone are the days when faucets meant a plain looking, typical design (a curve rising upward from the surface) that just solved the purpose of dispensing water when needed. Modern era has seen faucet designs evolve like never before and present day shapes come smothered with attention arresting features. These are no more simple things and have got an all new look, which makes them appear nothing less than a piece of delicate art. Wedging such designs will definitely give the bathroom a five star appeal and make it look tasteful. There is a range of trendy designs available that have a mesmerizing outline and come fitted with lights and additional accessories like crystals. The list is never ending and impressive, which will give the bathroom a rich and luxurious feel.
Decorate vanity cabinet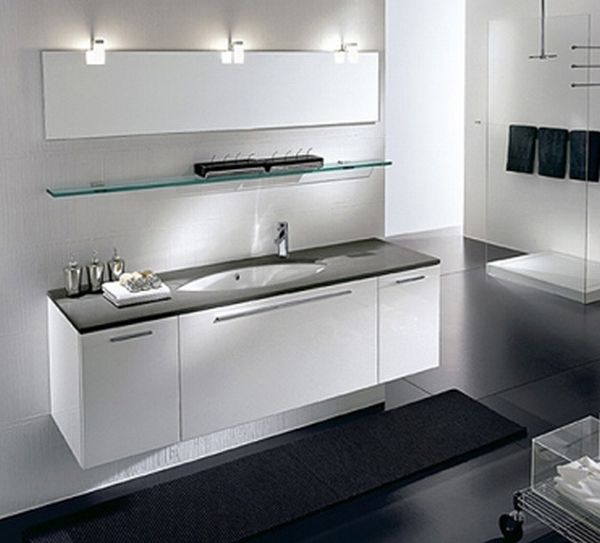 Vanity is one of the most used elements in the washroom and hence should not be just about cabinetry. Pick one that fits best in the space provided and matches your requirements. Ornament the vanity cabinet for added panache and extravagance. These are used to hold a variety of items for a large number of purposes, hence beautifying it will give added grace. Decorate it in a way that will give it added style and will further uplift the decor of the bathroom. Place candle arrangements, flower vases, small plants and even perfume bottles to jazz it up. Keep the vanity very clean and do away with all the untidiness for added freshness. One can also position decorative storage containers on the counter that can hold items like cotton balls, while making the area beam with sophistication.