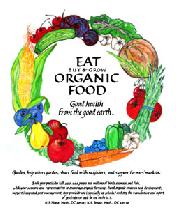 Replace that artificial, tinned junk by freshly grown organic food in well-tended, healthy gardens. It will go a long way in giving you a more natural and healthy life.
So when you shop your groceries the next time buy only real, whole food, and eliminate refined, processed, or genetically modified food.
Try buying fresh local and seasonal organic food whenever possible.
Avoid food items containing additives such as artificial sweeteners and preservatives.
In case of dairy products buy animal products from farms that raise them humanely.
More healthy food…