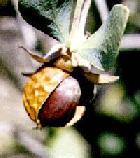 Jojoba, a shrub found in the southwest United States and northern Mexico, can serve as an effective Eco-friendly substitute for a petroleum-based lubricant for bicycle chains, sewing machines and endless other domestic applications.
Pure jojoba, a liquid wax that never goes rancid, is an excellent natural engine lubricant. This natural lubricant is so good it is even being tested on airplane engines!
So next time before buying a lubricant, try jojoba.
Read more on Jojoba…