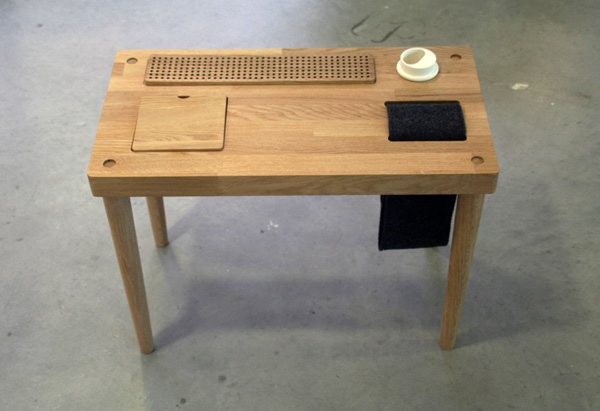 Fast food world has spoiled eating habits big time. Children don't value healthy options and tag it is as boring. They relish food items that have a low nutritional value. Here, to inculcate a sense of healthy eating is Ruth Vatcher with an Agriculture Education Table named Eat Play Grow.
It has been conceptualized keeping today's fast food generation in mind. The table is like a small field, where vegetables can be grown. The cleverest way to teach children is to club educational values with their playing tools. This helps form a connection and kids embrace the concept willingly. The wooden table, with plain looks, has been fitted with a watertight container, which will be used like a pot to grow herbs and vegetables. It also has a storage compartment where all the required tools can be placed in an organized manner. Apart from this, a chopping board has been fitted on the surface where children can cut what they have grown.
Eat Play Grow table comes wrapped with educational and nutritional qualities. It will encourage children to eat green vegetable, which are otherwise given a miss. They will be excited about what they have nurtured and force their mothers to cook a fresh meal with a smiling face. The ingenious table will trick them to relish what they hated at one point of time.
Via: Yankodesign