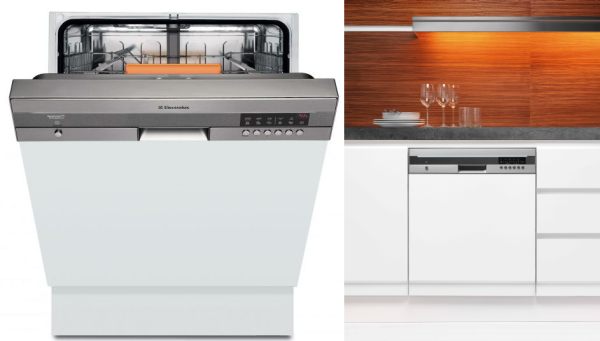 Electrolux has launched a new range of dishwashers in Europe named as RealLife Dishwashers. The company has made this product based on the requirements of today's customer. This offers good capacity with less use of water and power with better washing results. People use glasses and dishes of different shapes and sizes, big vessels and pans and professional pots thesedays. They expect their dishwasher to clean everything, whatever they load. Still, many companies manufacture the dishwashers for standard loads. These dishwashers are not capable of washing all the dishes completely.
Electrolux made a difference and created a most flexible and spacious dishwasher with a four centimeter higher XXL tub which gives biggest space to load the dishes. The machine comes with a redesigned hydraulic system and a new double rotation Flexi-Spray technology which delivers outstanding washing results even in complex conditions. The dishwasher comes with two containers, one container cleans the dishes and the other one holds them.
In addition, you do not have to put each dish to a different shelf every time after cleaning. Active drying gives better results, so you do not have to waste time drying dishes.Real life dishwasher consumes less water as compared to other dishwashers and have energy saving functions like auto-off, which turns off the machine after cleaning the dishes. Therefore, saves the energy spent on stand-by mode.
The new Bifoliate double dishwasher cleans the dishes by using ultrasonic wave technology. The better part is that it also transfers the cleaned dishes into the next shelf that saves your time and space.
What is New?
A complete ultrasonic dishwasher
Flexi-spray Technology for excellent cleaning results
Auto-off function for zero consumption of power in stand-by mode
Four-centimeter higher XXL tub for spacious dish washing
Energy Smart technology that automatically adjusts the use of water and power
Ceiling spray
Active drying
Now the choices is yours. Either load the dishwasher then wait for it to finish the washing, take out all the dishes and place them at their respective places or just load the dishes and enjoy a movie. Because you know that the Electrolux RealLife Dishwasher will complete everything safely.
Expected Price: £549
Via. Electrolux