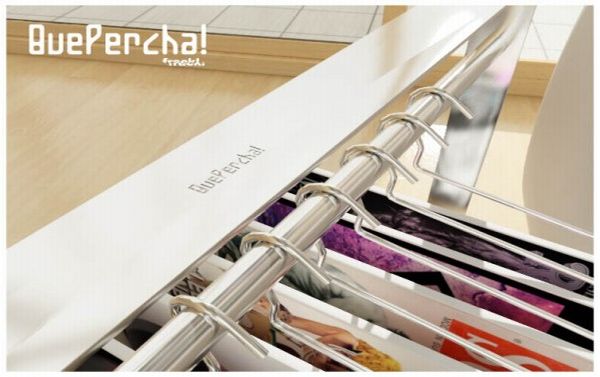 Often we come across many things which are made with very little effort and cost, yet they look unique in their creation. When we see such things made with so much ease and which also prove to be useful, we wonder why it did not strike us. This is what is creativity and creativity cannot be everyone's forte. QuePercha is one such design which is very simple to make, yet stands apart for its functional use. QuePercha is nothing but a magazine stand with hangers (used for clothes), designed by Frack Design.
Nothing can be more disturbing than to see a huge pile of magazines lying all around your house or business unit. This not only gives a messy impression, but also diminishes the beauty of your home decor or business attire. QuePercha, the magazine stand, is a good solution to get rid of the piles of magazine. Its glamorous look adds value to your interiors.
This rare design is made of chromed steel which has been molded and folded to give the stand an elegant and beautiful look. The magazines can be hung to the hangers which are the small sized clothes rods and the stand is low, just a few inches above the floor, to reach your hand when you are seated.
The clean look and sleek finesse of this magazine stand blends well with the aesthetics of your house, making the cluster of magazine a thing of the past. The over all look of the stand is very contemporary and elegant. The triangular base of the stand on both the sides is also designed to have a grip on the floor so that it doesn't fall. You can hang as many magazines as you want.
The hangers also makes it easy to find a particular magazine as they are hung with the rod and you can pick and choose the magazine of your choice with ease. QuePercha has already won accolades from people who found solution for their urge to keep the house neat. Although Frack Design products have always been very contemporary and crisp in designs with a lot of elegance, the Frackers have carved a special place for themselves through this incredible design in particular. A huge thumbs-up from all.
It is recommended to go ahead and place an order as soon as possible before this unique piece goes out of stock, which it surely will considering the fact that it is one of its kind, so beautiful and so useful.
Via: Ensayofrack