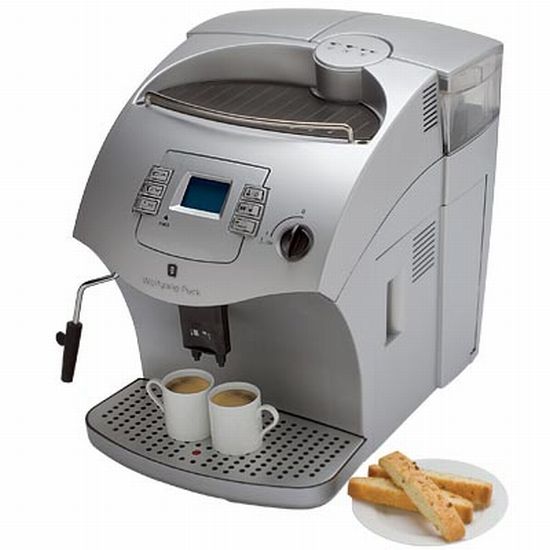 If you are like me, you can't do without a steaming mug of coffee to jump start your day. And as the day goes by, you need regular reinforcement of caffeine to keep you going. If you have nodded yes to all that, let me present to you Wolfgang Puck's electronic espresso machine. If you are particularly obsessive about the quality of your beverage, this machine will surely satisfy you.
This wonder machine claims to grind, tamp, brew and clean before you can say 'Espresso!' And all it demands from you is a lazy push of a button to get it going! Wow, I love technology!

Thanks to the constant pump pressure (15 bar), you get to savor mugs of steaming, frothy, rich coffee. Since I want my milky beverage with loads of froth, I was very excited to know that this machine is blessed with a steam nozzle which gives off steam or boiling water, resulting in thick foam for cappuccino, hot chocolate, latte or any other milky beverage that is your favorite.
The machine operates according to the sweet will of the user. You can decide on how fine you want your roasted beans, and it can at any one time, grind up to 113.4 g (0.25 lb.) of roasted beans. Temperature and volume can be programmed and up to 5 user settings can be saved. Depending on the size of your coffee mug, you can also adjust the spout.
The Wolfgang Puck's electronic espresso machine measures 33.02 cm x 41.91 cm x 38.1 cm (13 in. x 16.5 in. x 15 in.) and hence doesn't take up too much space, and more or less portable at 9.98 kg (22 lb.). The 1.2-liter (40 fl. oz.) water tank is detachable making cleaning up easy.
Sounds rich and frothy. What are you waiting for?
Source: Costco