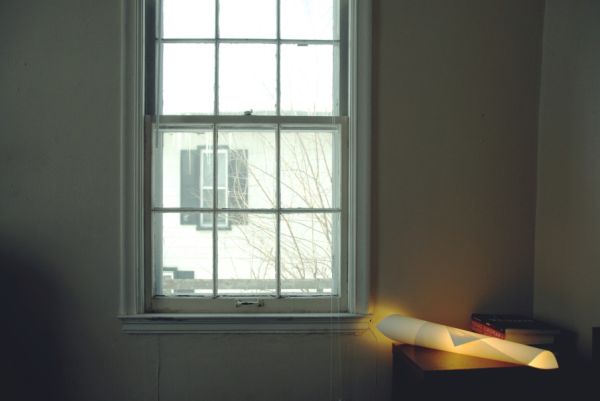 Benjamin Schwartz is a budding architecture, and believes in doing something new and different from others. He has recently created a lamp with the piece of heavy paper sheets and acrylic with a conical shape and hence has named it 'Cone Lamp.'
The lamp is a long and conical shaped piece and is available in two versions – the hanging one and the table lamp. Both ways, the lamp creates a beautiful light effect. The beautiful and eco friendly lamp is made from a sheet of paper which is 43 cms by 76 cms in size. The sheet is folded in a conical shape and then is supported by four tabs.
A dark and heavier paper has been used in the hanging version which more or less focuses the light downwards and at the same time diffuses the glow of the light throughout the body. Benjamin has fastened two acrylic rings to the socket of the hanging lamp to bring the right effect. Besides, in the suspended version he has also added two interlocking 'U' shaped pieces. On these pieces the cord on which the lamp will hang is attached.
The table lamp has been made in a minimalistic way with least possible use of extra parts. Benjamin has adhered only two acrylic rings around the socket. Thereafter a square sheet of heavy paper, around 43 cms in size has been wrapped around and then fastened with two tabs. In order to minimize the overheating effect, Benjamin has only used CFL bulbs in the lamps. The conical shape of the lamp helps in focusing the beam of light at the end, when kept in a horizontal position, while providing simultaneously diffused light throughout the body of the lamp.