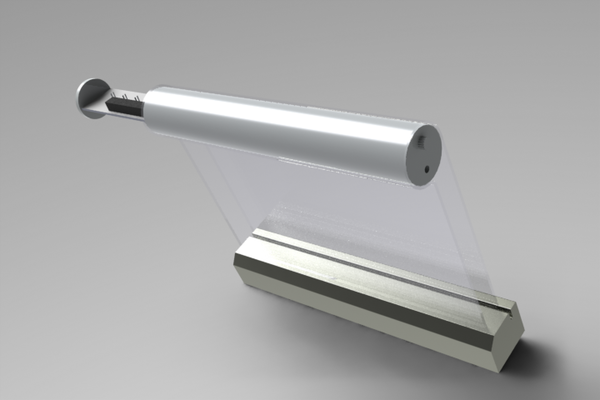 Lamps have the power to unfurl magic and lend warmth to the area they are placed in. Lighting options are available in a variety of shapes, but the product in question is different in true terms and vows to leave onlookers awe-struck. Nithin Jacob has crafted the File Lamp, which is quite attention-grabbing.
As the name suggests, the lamp has been heavily inspired from the shape of a file. It has been crafted using transparent acrylic sheet and fetches all the power from a 12 volt battery. The battery helps illuminate an area for approximately 12 hours when fully charged. The lamp has a plug-in port that can be coupled with an adapter to charge the battery. The portable lighting option has been fitted with 9 LEDs. The intensity of light can be increased or decreased according to the user's need. LEDs are a great way to save energy cut down on electricity. Hence, File Lamp will help keep the environment in a clean and green state.
It has a metal base and the lamp can be positioned horizontally or vertically. It is easy to carry and does not consume much space or energy. The simple and sleek device can be used as a note pad, table lamp, tracing pad and an album or calendar stand. The brightness won't pierce through the eyes and creates a cheerful atmosphere. Its simple looks will blend with all kind of interiors and add elegance. File Lamp has been fashioned in a distinctive manner and will brighten up an area in a tasteful manner.
Via: Behance