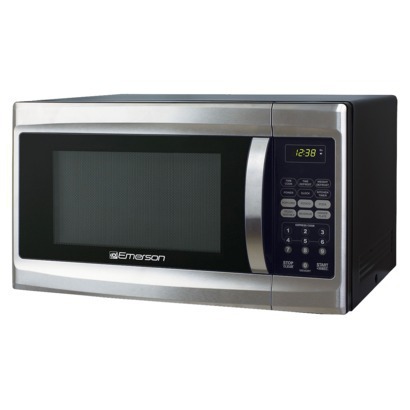 Emerson microwaves are recognized for their efficiency, durability and stylish designing. Since there is a vast variety of microwaves available with highly efficient features, to select the one of your requirement turns a bit difficult. You need to shortlist the features that you are looking for and then start your search. Due to vast range of options this can be a tricky task. To help you find the microwave of your requirement here are some of the best you would like to know about.

1. Emerson MW8999RD 900 Watt Microwave Oven
PRICE : USD 91.76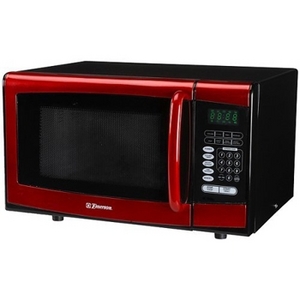 This Emerson microwave oven is one of the rarest red microwave oven. Featuring a timer, clock digital display, cooking light defrosting and a turntable sets this product apart from others. Child safety lock and door handle adds on to its features. Apart from stylish looks and unique qualities, this microwave consumes 900 watts of power and is designed for cooking on large scale and is suitable for small families. The microwave has a capacity of 0.9 cubic feet and weighs about 30 lbs.
Dimensions (length x width x depth): 11.3 x 20 x 16.1
USP
The unique design and color of this microwave makes it an eye catcher.
PROS
It features a child safety lock.
The door handle works at much convenience.
2. Emerson 1100 Watt Black Stainless Steel Microwave Oven & Grill MWG9115SL
PRICE : USD 144.99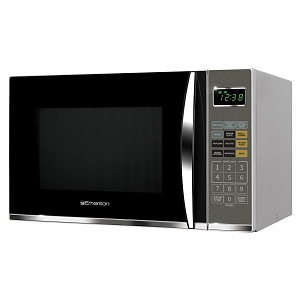 This microwave is a powerful one and cooks food in lesser time. The 1100 watt microwave oven includes tremendous features. Eight one touch settings, LED display, 10 power levels to choose from, digital clock and defrost are some features equipped within this microwave. A unique feature supported by this unit is browning element featured in it. The browning element makes food crispy and crunchy and delivers great taste. The pre-programmed settings for cooking and defrosting helps in quick and easy operation.
USP
The browning element and carousel is a great feature which makes food quickly.
PROS
This unit is highly efficient and cooks and warms up food within a few minutes.
3. Emerson 0.7 Cubic Feet/700 Watt Touch Microwave Oven MW7300W
PRICE : USD 49.99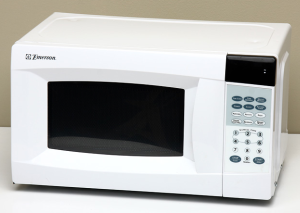 The Emerson product is an easy to use convenient unit which helps in quick cooking. It features 11 power levels and six pre-programmed recipes. Other features are digital timer, weight and time defrost, a digital clock, child safety lock out feature and a removable glass turntable. The capacity of this microwave oven is 0.7 cubic feet and power consumption is about 700 watt. The compact size of this microwave makes it an easy to maintain product.
Dimensions: 13 x 17 x 10
USP
All the unique features of this product comes in a very pocket friendly range.
PROS
The pre-programmed recipes help in easy cooking.
4. Emerson MWG9111SL Microwave Oven With Grill
PRICE : USD 116.99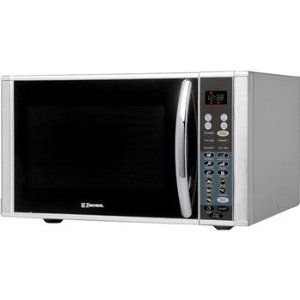 This microwave works great with grilling, browning and toasting. It's a product you can rely on. The one touch settings offer options of popcorn, coffee, defrost and more. The stainless steel finish gives it a stylish look. Other features include child safety lock, digital clock, LED display, removable glass turntable and 9 power levels to choose from. The commercial style microwave gives a great look to your kitchen as well. The capacity of this microwave is 1.1 cubic feet and weighs about 50 pounds.
USP
The grilling feature in this microwave works excellently and makes your food more crunchy and tasty.
PROS
The one touch buttons are very useful and make work convenient.
5. Yh Lh Emerson Microwave .09CUF
PRICE : USD 80.99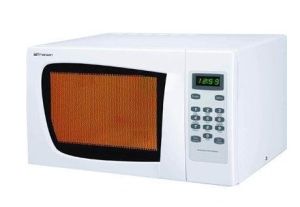 This microwave is another great option for your kitchen. It features double compartments for full AV system setup. Adjustable shelves make this unit easy to access. The safety tempered clear glass doors and genuine oak wood veneer brings uniqueness to this microwave. The stylish microwave looks great in the kitchen. It holds a capacity of 0.09 cubic feet.
USP
The genuine oak wood finishing, not only gives it a unique look but also make sit distinguishable from others.
PROS
Adjustable shelves help in operating the microwave easily.
6. Emerson MW8889SB Black 0.8 Cu. Ft Countertop Microwave Oven
PRICE : USD 63.59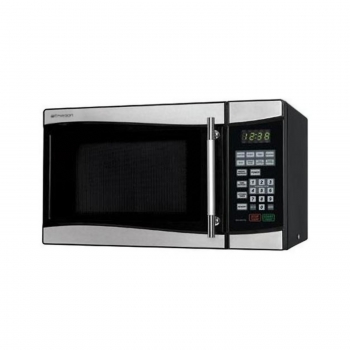 This model features 8 one touch settings, digital clock, housing LED display, removable glass turntable for even cooking and an end of cooking signal to let you know when the cooking is done. Other features include grilling which helps in convenient cooking. It can be programmed to a particular power level out of an option of 10 and can be set according to the requirement of the product being cooked. With this feature you can cook food without constant monitoring. The capacity of this microwave is 0.8 cubic feet. Power consumption of the unit is 900 watts.
USP
Glass turntable heats the food evenly and can be removed according to requirement.
PROS
10 power levels to choose from helps in quick cooking without constant monitoring.
7. Emerson MW8118SL Silver Microwave Oven
PRICE : USD 52.99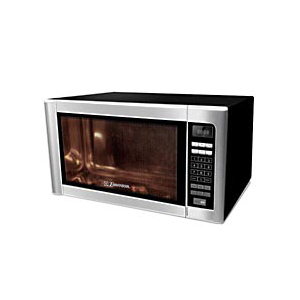 This is a high quality microwave with abundant features to match your requirements. The product is beautifully designed with silver lining which gives it an elegant look. The features of this microwave include 10 power levels to choose from according to the requirement of the food being cooked. A removable glass turntable for even cooking is present in it. You can set the commands in advance and enjoy the one touch cooking experience. The unit weighs 40 pounds and has a capacity of 1.1 cubic feet. The total power consumption of this product is 1000 watt.
USP
Silver lining of this microwave gives it a very elegant look and works great for the price paid.
PROS
This microwave helps in easy and quick cooking without any fuss.
8. Emerson 0.90-Cubic Foot Microwave Oven, Stainless Steel and Black
PRICE : USD 76
This microwave holds a capacity of 0.90 cubic feet and is the best choice that makes life easier. The features equipped by this microwave include 8 one touch setting, 10 power levels that help in quick and easy cooking and speed and weight defrost. LED display and digital clock adds on uniqueness to its features. The microwave oven is beautifully designed and looks stylish and smart wherever you keep it. The one touch settings make it more convenient to cook.
USP
10 power levels for cooking reduce your work and make cooking easier with less effort.
PROS
LED display that not only looks smart but also helps in operating the microwave easily.
9. Emerson Radio Corp Mw8889sb Microwave Oven
PRICE : USD 124.89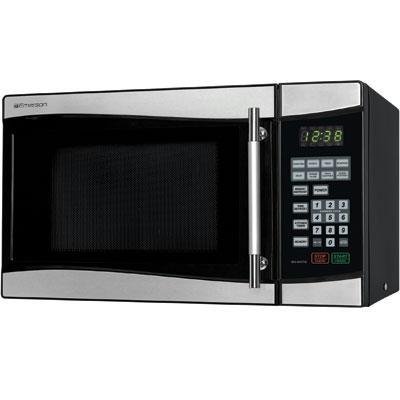 The radio corp microwave oven can be used for grilling, toasting, baking and broiling. These features of this microwave help in efficient cooking. The microwave is smartly designed with a prominent and easy to operate display, so you can easily get used to operating it without any confusions. The total capacity supported by this microwave oven is 0.80 cubic feet and it weighs 27.30 lb. Power consumption is around 900 watts.
Dimensions (H x W x D): 11.40" x 18.10" x 14.80"
USP
The microwave can bake, grill, toast and broil which makes it a great option for cooking.
PROS
Stainless steel finish gives an elegant look.
The display of this microwave is user friendly and cuts down on confusion.
10. Emerson Stainless Steel Microwave – 1.3 Cu. Ft.
PRICE : USD 84.99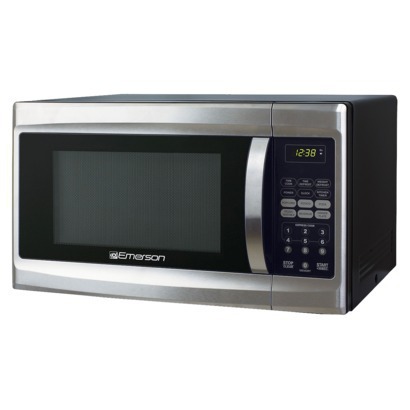 This is a very efficient microwave which cooks, defrosts and reheats in minutes. The proficient unit holds a number of useful features that makes this product of great value. The features include a variety of one touch settings to make cooking an easy and fast activity. Other features are digital display, clock, timer and an efficient defrost setting. It also features turntable for even heating. Child lock system is a great security feature and the pull door style is much more convenient for usage.
USP
Efficient in defrosting and this microwave reheats food quickly which makes it worth buying.
PROS
Turntable works great with even heating.