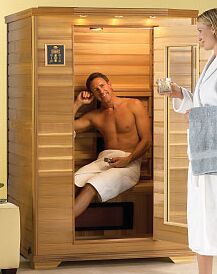 With Infra Red sauna system you can enjoy the experience of soothing sauna bath right in the comforts of your home for it's highly portable and does not require those cumbersome fittings and wirings.
This gives gentle warmth and directly raises your body temperature which works in relaxing your muscles and relieves the joints from any kind of pain or stiffness.
The best part about this one is that you don't have to worry about the soaring bills for it uses just 1.4KW per hour…isn't it great!!
Price: $ 4999.95.