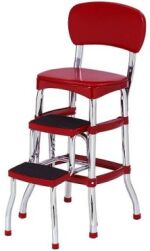 Cleaning those walls or getting something from the topmost shelf in the kitchen can be big time problem if you do not have something high to climb upon.
In such a scene you desperately need a high chair or a stool. To cater to this kind of a requirement we have this Red Step Stool in the good old Retro look.
The classic design features a smooth tracking foldout step to climb upon, while the seat made in vinyl is padded to give utmost comfort. The stool looks stunning in smooth chrome finish.
Available at Target $49.99