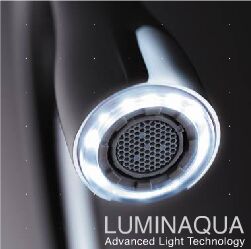 Water can be cool; water can be hot but ever thought about lighted water? No? KWC faucets have actually made the water to glow with Eve.
Eve is one of their latest trend-setting faucets that bring together water and light by fitting a LED light in the head of the faucet. With this at hand…you can have a all glowing bath. Switch off those bathroom lights and you can see the light striking even brighter.
The lighted faucets are available for the bath as well as your kitchen…just imagine the feel of having an illuminated bath or lighted stream of water filling your glass.
Check out the entire range at KWC