Most of you will agree with me when I say that style and look is just not the only criteria while looking out for a bathtub. Comfort level and ease too form an integral part of the search.
I don't have any second thoughts about the fact that glass bathtubs look great and exude a great deal of charisma. Nevertheless, if a bathtub is somewhat like this one called the Le Cob Bath, I am sorry to say you are bringing home a piece of an overtly good looking and precisely uncomfortable bathroom fixture.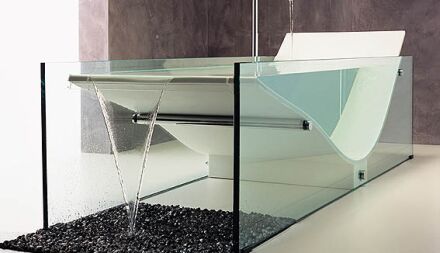 This one features a glass chaise placed in a all glass surround (don't miss the angle at which the chaise is placed, and do tell me how to sit, lounge or adjust in that position) placed on a pebbled floor (here). The water overflows the edge into a stainless overflow drain pan that is filled here with pebbles.
With this one fixed in your bathroom, forget having a relaxing bath, I don't think one can even stretch his/legs to the max. Everything apart, it's priced at an awesome $22,000. Don't you think it's a bit too much for some thing as painful as this.
Via: PrueContemporaryBlog