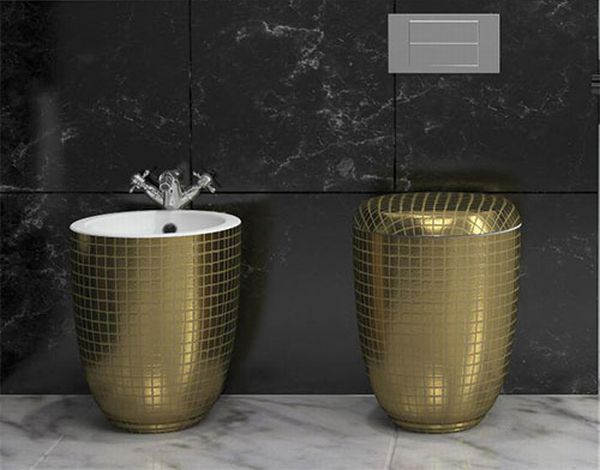 Bathroom is a place of retreat and cleansing and people are becoming more obsessed with the idea of doing it up in luxury and style. As people become more economically comfortable and the standard of living goes up, they are looking for meaning in every aspect of their material lives. Of course, rich people who have the money will go to any extend to have their every wish and desire fulfilled, even to the extend of their bathrooms. Having a beautiful home is no longer enough as people try to extend that image into their bathrooms by turning them into ritualistic rooms. Listed below are some of these highly expensive, creative and awesome designs in bathroom fixtures.
1. High-tech gold plated toilet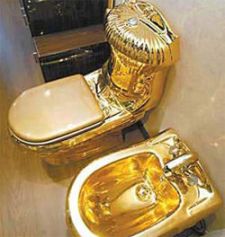 This is the ultimate in toilet luxury, absolutely gilded in gold and a truly regal seat. This toilet set is priced at a whooping 250,000 Euros and named as Moscow in all its gilded glory for doling out its extravagant service. It comes equipped with digital control devices and advanced plasma mirror as fixtures.
2. G-Full toilet and bidet/bench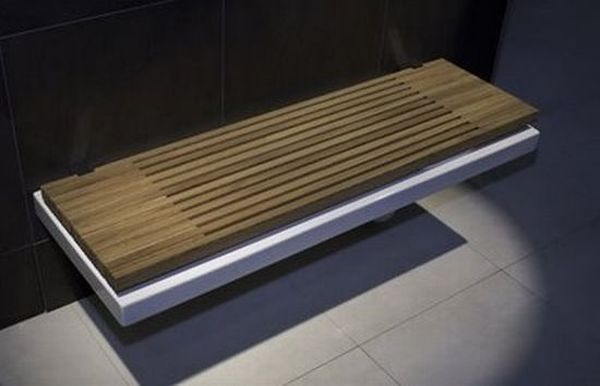 This toilet has an overall bench-like design and when flipped back it reveals beneath a bidet and toilet. The toilet set is mounted on the wall and hidden away from view discreetly. It has a solid wood bench cover alternating for a comfortable seat. This G-Full toilet was designed and created by Hatrial and the modular design smartly keeps the bidet and toilet under cover.
3. Swarovski studded toilet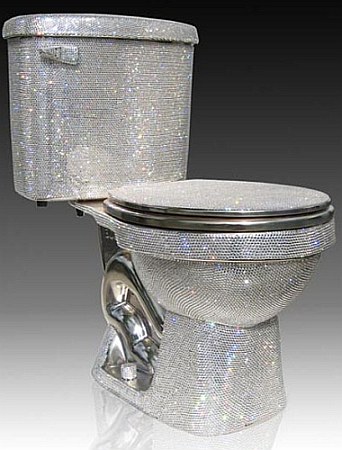 Christened as Isis and designed by Jemal Wright from Hollywood, this swarovski crystal studded toilet is priced at $75,000. The designer has even created a matching sink along with the toilet and has plans to add a slipper tub as well based on the icy sculpted looks.
4. Julien bench toilet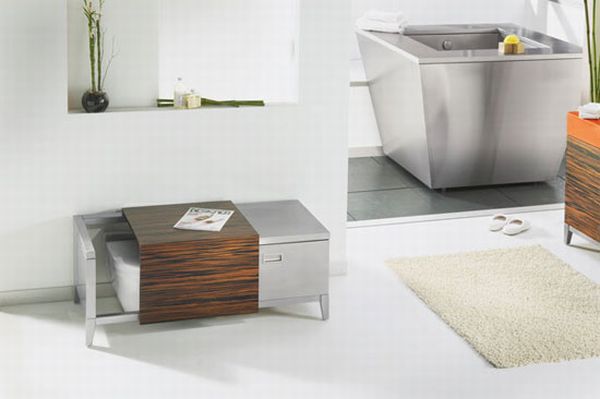 This is by Troy Adams and part of the Julien bath suite. A sliding panel of wood has been fixed on to the fixture to give it an appealing look. The sliding door shuts out the toilet when not in use. When the sliding panel is in place it becomes a powder room bench by closing up the toilet from view. This sophisticated concept of innovation in design is bound to revolutionize bathroom etiquette in homes.
5. Jungle dundee toilet and bidet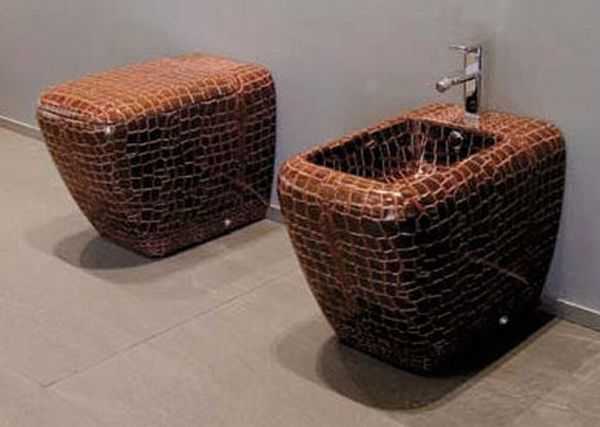 This design by Ceramica Cielo uses fashionable leather finishing lending it a wild natural beauty to the Jungle bathroom design. It is a bold defining statement exuding elegance in richly textured finish for modern homes. It comes in three different patterns of Monty, Dundee and the Deep Dundee. In the Monty pattern the texture is snake skin in brown, for the Dundee pattern the accent on the crocodile skin comes in strong brown and green colors. For a more sculptured effect, the crocodile skin is glossed in white finish as seen in the Deep Dundee pattern. This is a trendy bathroom design based on the crocodile skin and embracing the depth and exotic beauty of the wild, and transforming them into classic luxury textures.
6. Artceram toilet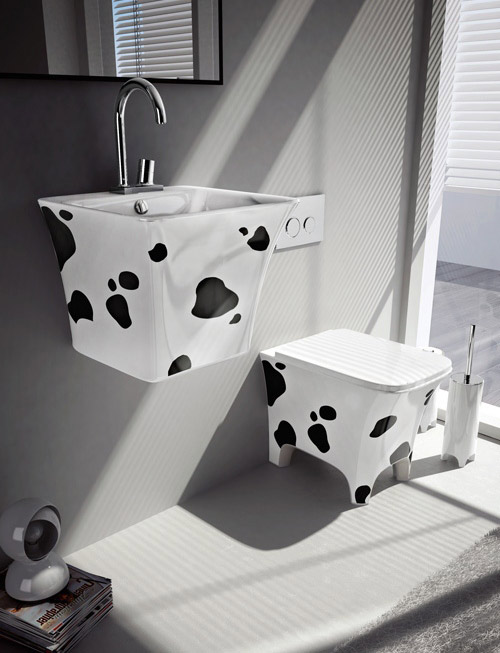 This is from the cool sanitary ware collection of Artceram and is the latest addition to their bathroom fixtures. Their design theme is based on slim black and white and they have come up with two fun designs. The cow design is splattered with spots as in a cow. The other design depicts in simple dotted lines, different cuts of meat on a cow. These cow bathroom fixtures are bold, fun, clever and drawn on the simple black and white colors.
7. Toilets and bidets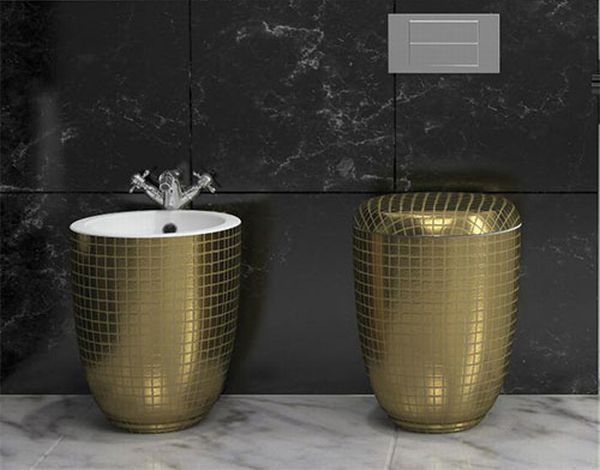 The Italian company Stile has created the Mosaiko collection which stands out elegantly with matching sink and shower tray. These are all handmade ceramic and comes in wide range of colors like white, glitzy gold, grey and pastel lilac. The toilets have matching lids and they are very chic in design.
8. Toto's Miyabi collection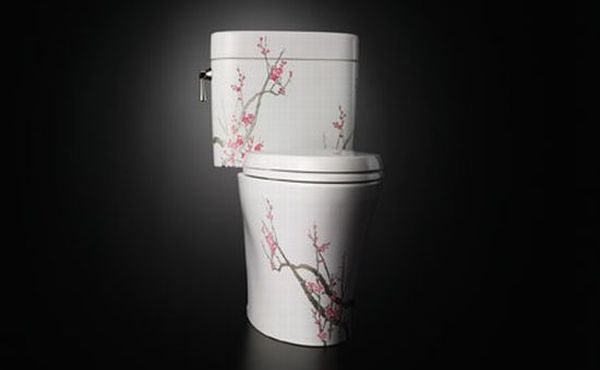 The new Waza Miyabi collection by the well known innovative company Toto is inspired by the Sho-Chiku-Bai concept, meaning pine, bamboo, plum has come out with clean, slim and unique design based on Japanese theme. No two designs are identical because they are all hand painted by Japanese artist depicting the four seasons in an artistic form. The spring is represented by the use of silver branches and vivid flowers, summer is represented by 24 carat paint in golden plum and bamboo motifs. This is highly priced at $21,000 while the other three designs cast $10,000 each.