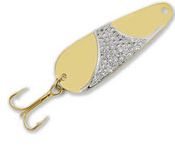 All those who love to eat fish and love it all the more if the fish was caught by yourself, then here is something to add some extra zing into that fishing experience. How about going for a bedazzling tackle like the one from MacDaddy. This one is encrusted with real stunning diamonds.
The exclusive and limited edition piece is the 14-carat gold and diamond collector's series. Apart from that the luxury lures are available in five-luxury ranges that start from $40 and reaches out to $1,000,000.
And if shelling out such big bugs is not your cup of tea…then…don't get disappointed, there's still something more. You can forget that out of your reach gold for reasonable sterling silver and those too expensive diamonds for cubic zircons…and still flaunt your shackle all the way to the fishpond. Isn't that great??
Via: GadgetCandy/TrendHunter