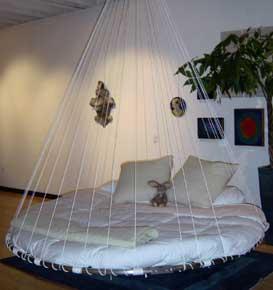 If are adventurous and like to buy some real crazy yet cool stuff for your home, then the Floating Bed is perfect piece of furniture for your bedroom. Those who've already used this one, say had more fun in it than in an ordinary bed, either during rest alone or with a partner. Others consider it as a amusing toy for kids or adults, and a party mixer that your guests are sure to love.
The Floating Bed suspended with wires (can be installed easily on all ceilings) moves like a true one-point pendulum, evenly in all planes and directions. I hope it doesn't not make one feel as patient of vertigo…just kidding. Are the wires are strong enough to take the load…they must be.
The bed can be installed both indoors and outdoors if you wanna use it as a party mixer.
So wat are you waiting for…just listen to your adventurous instincts and get the Floating bed.