It does not matter if we are having an intimate gathering or having an event where we are welcoming our whole community, in either case we want to make sure to create a space that feels very festive. The easiest way to create a celebratory atmosphere is to focus on the decorations that we use. Throwing a party is a great excuse to think about our outdoor spaces holistically. While we could always turn to a party planner, often we can turn our backyard into a wonderland that will impress all our guests, all on our own.
1. Designing Entryways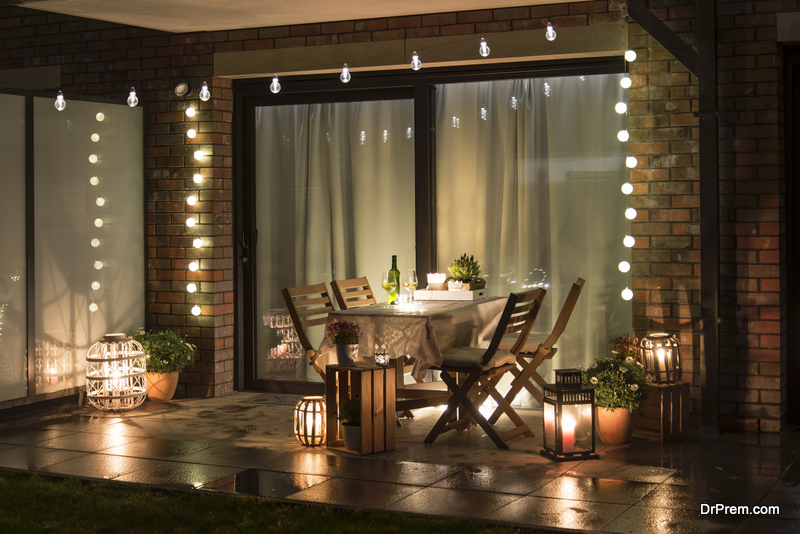 There are many ways we can make an entryway shine. We can choose to light the entryway to our backyard with fairy lights, candles, or even sparklers which all help to create a magical space. Lighting our entryways is important because we don't want anyone to trip on their way into our event. It is also important to clearly mark any steps or uneven areas of ground. Safety always needs to come first when decorating a space for an event. A brightly lit entryway is a wonderful way to welcome guests to our celebrations.
Sometimes when we are planning for an outdoor event, we will realize that we want to remodel an entryway for safety reasons, or so it will be more visually appealing, encouraging us to use our outdoor space more often. There are a wide range of designer entryways which we can use as models. We might choose to put in a stone or tile pathway or add several benches so we will always have somewhere to sit. When thinking about the decorations for an event picturing how we want our entryways to look is a great place to start.
2. Creating Showstoppers
When creating a showstopper for our event we are looking for something that will catch our guests' eyes from across the space. One kind of showstopper element we might choose to add are heart sparklers which can really add sparkle to a cake. We might also consider hiring a band, or singer to put on a show stopping routine. When planning an outdoor showstopper, it is important to consider what we will need, for example space for sparklers, or a dance floor and electricity for the band.
If we are having our event in a large outdoor area, we can choose showstoppers such as putting on fireworks. We might also choose to use a gender reveal cannon to fill our space with festive confetti. Bonfires can also be incorporated into our show shopper routine since we all love being able to hang out and watch a fire burning bright in the night sky. Bonfires have the added advantage of keeping our guests warm on a cool fall or winter's evening reducing the need for space heaters.
3. Putting Centerpieces At The Center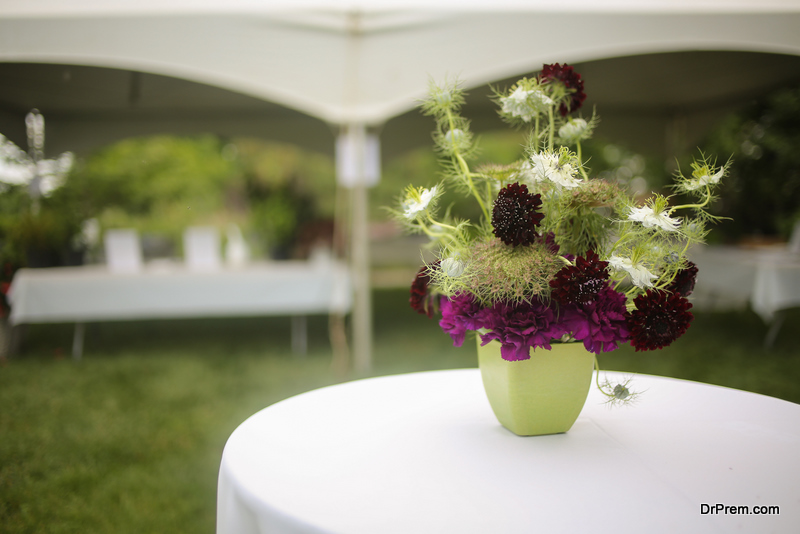 Centerpieces are a great way to create an experience that all our guests can enjoy. When choosing a centerpiece it is important that we remember they should not be so high that our guests can't have conversations around them. Centerpieces can be made up of flowers, candles, or fancy bottles filled with sparkling glitter. A centerpiece makes any small table that guests might stand around become spectacular. Centerpieces can be used with or without tablecloths depending on the theme of the party we are hosting.
4. Creative Themes for Outdoor Parties
While we might think about outdoor cocktail parties, or holiday parties there are a wide range of celebrations that we can host in our backyards. Sometimes the most creative parties are those that are most unexpected. For example, we might use various gender reveal ideas to celebrate other occasions. We might choose to focus on a particular fandom when designing our event or a particular sports team. Picking a great theme is sure to bring a smile to the faces of our guests.
In the end when hosting an outdoor event, the sky's the limit when it comes to how we choose to decorate. When we consider our entryway, our centerpieces, our theme for the night, or show stopping entertainment we can create a very memorable experience. While decorating can make all the difference, it is important that we remember the real reason behind our get-together which is to spend time with friends and loved ones. Parties can be just as fun to decorate for as they can be to attend. So let us plan our next amazing outdoor event today.
Article Submitted By Community Writer