Under normal circumstances we might not pay much attention to putting up great centerpieces on our tables, but if creativity is applied, it can certainly take artistic forms to add beauty to the ambience. From the traditional set of flowers, to pebble stoned faux zoos to candles and much more, the new styles of table centrepiece can certainly be an integral part of the ambience, and occasions whenever they so arise. We picked out 10 ideas which we found to be refreshing and aesthetic in their unique ways: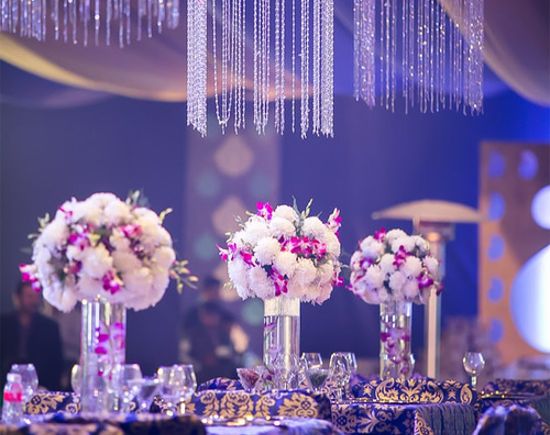 1) Bird Cage centerpiece:
In case you housed birds in your house, perhaps an old cage could be lying around. If that's not the case, you could try and pick up a simple design from the local pet store, and give it your own touch for a centerpiece on your table. Painting it into varied colors, and contrasting them with colorful flowers (like orchids in the picture) and small plants could the way to go.
2) Inverted glass and vases as centerpiece:
If there are spare old glasses lying from the crockery, or some which are not in usable condition anymore, can be put to good use, which definitely can give the centerpiece a whole new look. Faux flowers, candy, rocks, twigs, and even fruits can be placed under inverted transparent glasses or vases of similar type. Lends an unconventional touch to the aesthetics of the table or where they are kept.
3) Lanterns and candle based centerpiece
In the modern world too, the charm of a lantern is still held sacred to beautifying a place such as a dining table. Though there can be different designs for these lanterns, which also vary with color, they are ideally suited as the single decorative piece with candles decorated around them. In this case, such a setup has been created on a round table, or can even be arranged in a series if the table is long enough. One could experiment with mini wind chimes during the autumn, something in lighter colors during the spring and summer seasons.
4) The Terrarium Centrepiece:
Sometimes the good old school science projects bring back memories, and like in this case, can be really good to look at. This might not be on same scale, but if there are transparent jars in the house, one can fill them with multi-colored pebbles and stones, and recreate a mini-personal zoo. Called terrariums, these miniature centrepieces can be created by using moss, pebbles, and miniature animals which can be easily found.
5) Floral Power centerpiece:
The power of lower is as evergreen, as it was during the earlier times. If you have a garden, or else can get some multi-colored floral arrangements, then these can be aesthetically used on your table as centrepieces. In this case, since the tables and long and hence rectangular in shape, cups and saucers have been used as the base on which the flowers have been arranged. One could create different combinations, which would ultimately look regal for most occasions.
6) The Sweet tricks centerpiece:
Most of us love candy, and here is another way to put it to good use, other than munching on them. Jelly strips, mints, and other sweets are created in various colorful designs these days, which can be arranged in a layered manner, or simply as a single color decoration within inverted jars to use as a centrepiece. This way, one won't at least need to worry about having the decorations being munched up too easily, at least not when the party is still on.
7) Twigs natural centerpiece:
Nature seems to be ruling the roost when it comes to making little decorative piece, and this centrepiece is the perfect example. During the spring and autumn season, the trees tend to shed of leaves and smaller branches break away to make way for new ones. They can be picked up and used as aesthetics for a table centrepiece, especially those looking to create a nature connected ambience in the personal space.
8) Apples Centerpiece:
It is an accepted fact amongst designers, that natural fruits and vegetables make for a good view. Though some would prefer to use the real ones, but there are artificial varieties available which can be used in place. One can also opt for oranges or other fruits of similar kind to create the similar aesthetic ambience. This centrepiece would also suit along dining tables where each jar has a different fruit in it.
9) Pinwheels centerpiece:
This would take a lot of people back to their childhood days. But pinwheels are just as awesome during present times as well. Though commonly available in most shops, the pinwheels can always be made at home to give it a more personal touch. Color paper and stickers are always handy in these cases. Perhaps such a get up would be ideally for an informal setup, or even a childrens' room.
10) Seashell centerpiece:
The ocean has always been a place to let one's hair down, and also a scenic beauty to be soaked in. No wonder some parts are cherished as decorative items, including the use of it being the table centerpiece. Jars, trays, and even transparent bowls can be used to lay shells and cobble stones from the near the sea, as per table sizes and shapes. This would perhaps work the best as a permanent fixture on the dining table, or kitchen as well.