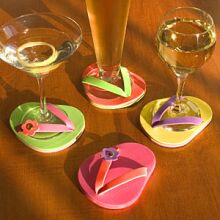 Wanna add some variety and a touch of humor to your dining table? Get these Flip Flops tea-coasters. There's just one problem with these. Once you get them you won't be able to teach good manners to your naughty kids when they step on that dining table with those shoes on…isn't it?
They look just so cool and are simply perfect to keep those martinis dry. All kinds of stemwares fit just right into the cute little straps of these little flip-flops.
Available in a set of four, these come in funky colors to add fun to any party. A perfect combo of design and utility, these coasters are priced at $20 for each set of four.