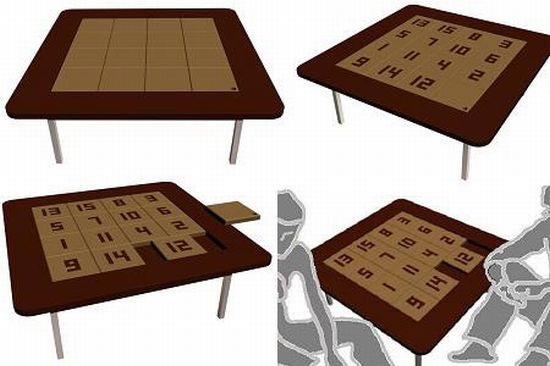 Features: Designed by Giovanna Caliendo, Fifteen table is a playful creation. In addition to serving its main purpose, it adds to its utility by incorporating the good old puzzle game fifteen. Several wooden blocks are placed in the main frame and one needs to remove the card with hole to get the grid for fifteen ready. Thereafter, you are set for exciting competitions across the table. Do not, however, even for a moment think that this table looses sight of its main purpose. Even during play the outer frame provides all the area necessary to place drinks, cups, and trays.

What's different: Obviously the gaming bit is as unique as you'd find with any other table. But in addition, the numbered pieces can be replaced with painted ones that'll then form other puzzles. Needless to say Fifteen looks refreshingly interesting.

Other options: Not interested in this? Then you always have your standard pool table or a table-tennis table to resort to. Jokes apart, this wood and aluminum table is as unique a piece as you are likely to come across.
Via: YoungDesigner