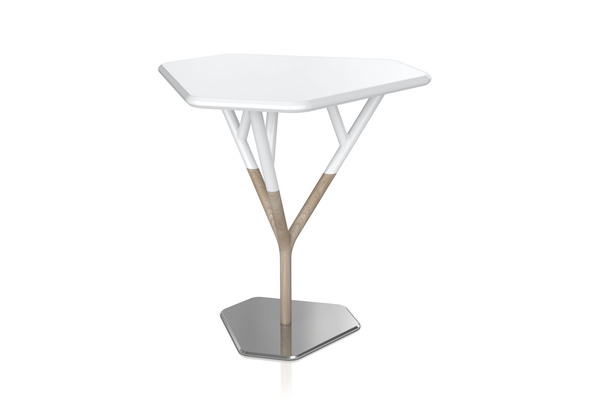 Getting an amazing piece of art and modern sculpture into your house would just be perfect. The designs made by V2 studios London are always master pieces. They have come up with a Fuse table for your house. Look at the shape of the table, it is simply elegant and just the perfect thing you would need for your house. You can't resist your temptation of buying it once you see it. Tables are always a very useful part of furniture. Besides just being useful the beautiful looks of the Fuse Table designed by V2 studios London makes your room look better and modern.
The Body
The table is made up of steel, ash, and lacquer. These materials make the table strong and reliable. It is colored in such a way that it defines all the three parts of the table. The simple look of the table appears very elegant just because of its color.
The Design
The table is divided into three parts, the base, the leg of the table, and the top of the table. The base of the table is made of good quality steel. The leg of the table is fixed to its steel base. The leg of the table divides into three branches growing upward to the top of the table. These branches have a lovely glossy finish. The designer of the table has used a unique shape for the top of the table. The top of the table perfectly fits to the branches of its leg. The table top is unique and can be detached and used as as a serving tray as well. The table is simple and unique in its own nature. Besides being simple and different the design of this table is very elegant and classy.
A multipurpose table is a requirement everywhere. This table covers the functional part of a table very well; it also sets a different standard to the furniture in your house. You will get furniture everywhere in the market, however the look of the furniture should be appealing as well. Fuse Table sets a class in furniture and is a perfect display piece for your stylish home.