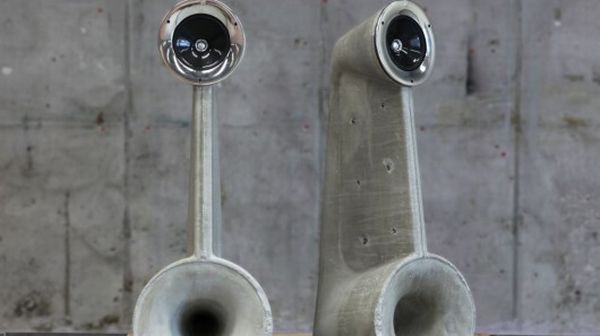 Everyone of us have heard about speakers, but it would sound new to hear about concrete speakers. Unusual speakers like Whamodyne glass or Solid Acoustics' dodecahedron speakers are known to us; but, Shmuel Linski,a designer from Israel, has introduced a new series of creations including a pair of concrete speakers, each weighing around 123 pounds (56kg). This unusual series of creations contains a lot more items such as a concrete coffee maker and a concrete canoe.
You might wonder how would these concrete speakers work since the concrete is so stiff and when it meets sound, sound would get distorted for sure. Generally, it has been found that the casing of speakers are made up of wood or MDF (medium-density fiberboard) and the cheaper ones are made out of plastic, but it is hard to imagine speakers made of concrete as they are non-resonating. Here the question arises What's the need to make loudspeakers that sounds strange?. Linski gives a weird reason saying that the speakers can invoke a sense of nirvana for concrete lovers and audiophiles.
These speakers are made using horn technology. Shmuel Linski, in order to give the speakers a new design, linked the driver located at the top through a 96 cm (38 inch) -long lined pipe located externally with a bass port at the bottom, looking like a megaphone.
Linski designed these speakers as part of his graduation project at Shenkar College of Engineering and Design in Ramat Gan, Israel; there is no hint of any commercialization plans, yet. Other projects made by Linski like the "espresso solo" and the concrete canoe are also unusual. The first one was made with an intention to make an espresso using a machine placed in a concrete casing, whereas the second one was just made for a concrete canoe-building competition held in Israel last year.
Via: Gizmag