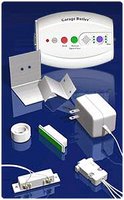 If you are a forgetful person then leaving that garage door open must be a common problem for you. Here is a solution that will put an end to those reminders coming in from your neighbors to close the garage door.
This is a device called "GarageButler" that can be installed behind the garage door. It will automatically close the garage door everytime you leave it open.
Apart from security, this will ensure you a great deal of peace and calm of mind. All you have to do is just set the time as per your requirement and the door will get closed at the completion of the pre set time that can be anything from 3, 10, 20, 30, 45, or 60 minutes.
Not just this, the GarageButler features a sunlight detector as well, with this at guard the door will get closed as soon as the sun sets, leaving no scope for any kind or trespassings and security wreaks.
Via: StrangeNewProducts