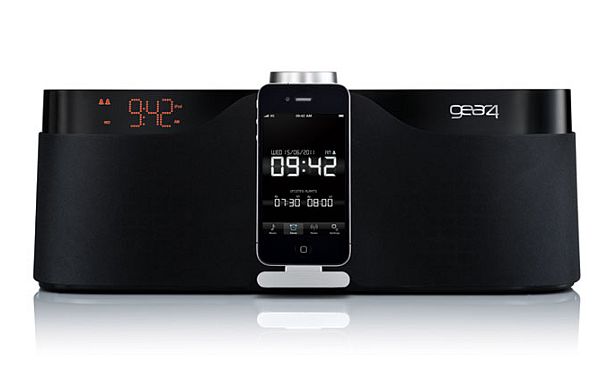 Gear4, the well known and dedicated brand of iPod accessories, has introduced yet another must have iPod accessory – the Party Rise iPhone alarm clock dock. The product has recorded its entry in to the company's already existing best seller series of iPhone clock radio docks. This new sleek and compact clock radio is called the House Party Rise iPhone alarm clock dock. This cool jet black colored super gadget is a radio, a dock, an alarm clock all all rolled into one at the same time, and saves you space by reducing the clutter on your sideboard or bedside table.
The USP of this particular model is that it comes with a built-in range of features, which include its own set of applications. Among them, the most important and perhaps the most useful application is the Smartlink App. This helpful application allows you to control your iPhone from anywhere, when the devise is docked with any other iOS device. With this app you can also change the radio station on the House Party Rise.
Another unique feature of this radio dock is that is totally compatible your iPhone and even with your iPod Touch. Along with an alarm radio and a FM radio, the dock also boasts of an LCD display screen, which ensures that all the required information is flashed clearly and completely.
Owned and managed by Disruptive Limited, Gear4 was started in 2004. Today the company is synonymous with all things associated with iPod and iPhone brand. Gear4's House Party Rise iPhone alarm clock dock will be available soon in a store near your house for $99.99, and it looks like it would fly off the shelves in no time.
Via: Geeky Gadgets