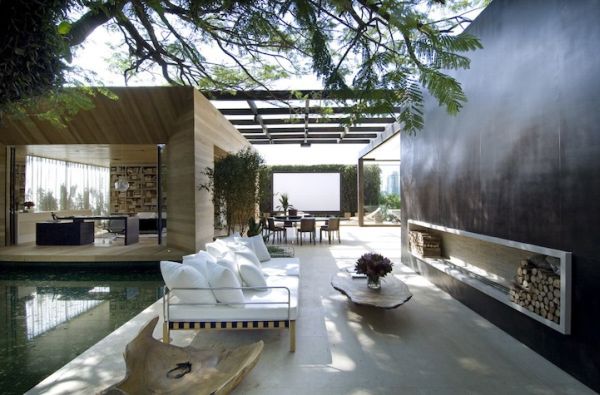 If you are someone who is completely in love with the nature then in all probability, you would want to stay surrounded by the natural scenic beauty always. But the question is – how close do you think you can get to nature and its beauty? Ever imagined living amidst natural beauty or better having a home that is an extension of nature's serenity? Frenanda Marques has made this literally possible. One look at this house and you will be left amazed on how a design concept as this was made practically possible.
Daylight, highlighted textures and fully open to the outside – these terms best describe the dream home created by Frenanda Marques. This home is in fact an extension of the nature in its true sense. What is implied here is that; the home in question is almost completely open to sky and barely has any walls. A wishful escape from the urban frenzy, a home like this is truly one with nature. Frenanda Marques took a big risk in order to accomplish this project. She built this 2,700 sq ft or 250 sq m home with practically no walls or ceilings.
This house is situated in Sao Paulo, Brazil and is the perfect refuge to enjoy the warm and bright sunny days. This home has all the luxuries in place to give you a relaxed ambiance with all the peace of mind. Necessary elements like limestone, rough stone, steel, glass, wood paneling and furnishings etc were all used to create this lavish home that looks and feels absolutely seamless. The best thing about this home is the feeling that one gets – you are never really sure if you are living indoors or out in the nature.
However, there is one drawback to this design concept. A house like this can exist only in a hot place like Brazil. It will otherwise become very difficult to bear the chilly breeze during winters.
Source: My Modern Met