Snakes are creepy creatures and its site can scare just anyone. Killing all such fears will be the Giant Gummy Snake that you will be able to play with and eat at the same time. This rubbery textured confectionery, shaped like a snake, will let people look directly into the eye of the serpent without the fear of getting bitten by the poisonous creature.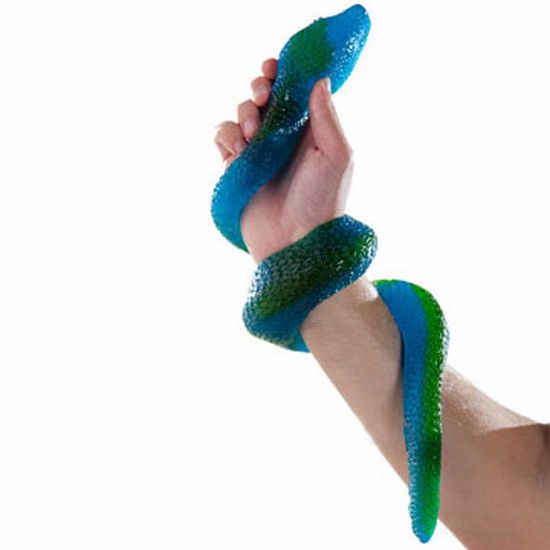 Gummy worms and gummy bears have always been a favorite amongst children. The sweet serpent candy has been made to look real and has a well textured outer skin, which comes complete with scales and eyes. One will be able to lick the sweet, sugary scales of this gummy snake as the succulent candy slithers down your throat without hurting even a bit. The 2.5 feet long creation comes loaded with 2,280 calories and weighs a good 1.67 pounds. The candy snake is available in an assortment of flavors, which are fit for consumption and non poisonous, of course.
This unique candy has a two tone color, which is quite impressive and fetches a lot of attention. These yummy slithery candies will be a perfect treat for everyone, irrespective of the age. Giant Gummy Snake maybe scary to touch, but once you have it in your hand you won't be able to leave it till the time you have had it all. These colored snakes are waiting to strike your tongue with all the sweet venom they have injected inside. The best part being, you will bite the snake and not the other way round.
Via: The Green Head