Planning to buy some home theater furniture with a difference, then the King Kong inspired furniture is all you need to lay you hands on. The quirky furniture pieces are a unique and attention arresting creation by Tom Spina Designs, which are bound to leave onlookers wheezing. It comes draped in awesomeness and the set will stand out because of its unusual jungle like appeal.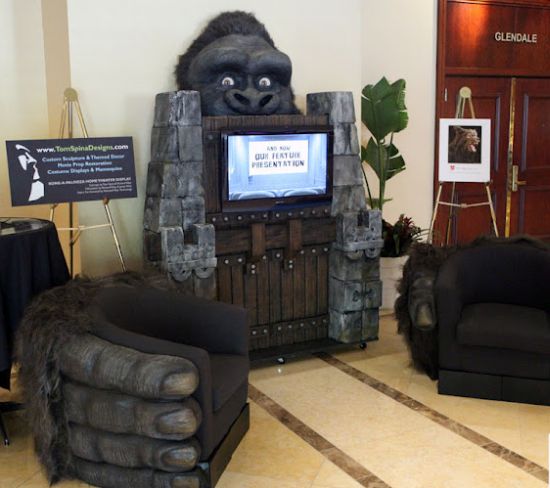 King Kong Home Theater furniture, as is suggestive from the name, is one home theater setup that has fetched quite some inspiration from the fantasy adventure film King Kong that still manages to make people go gaga because of its brilliant cinematic vision. The furniture pieces have been given a striking appearance by using a stone front and faux wood, which makes it rank high on the creativity graph. The set comprises of two chairs that look as if hands of a giant ape are gripping the seating arrangement from behind, while the King Kong steals glances from the top of the television cabinet.
The sculpture has been fashioned meticulously, while keeping even the minutest details intact for a lifelike appeal. The giant sculpture comes caked in a lot of character with precisely the same details as one sees in the movie. The incredibly unique creation has managed to capture the exact essence of the classic stop motion picture, while giving the space a park like aura. Watching horror flicks with the King Kong inspired home theater setup decorating the space will get an all new meaning in terms of fear when every time you see the giant gorilla staring at you from a distance.
Via: Neatorama/ Superpunch