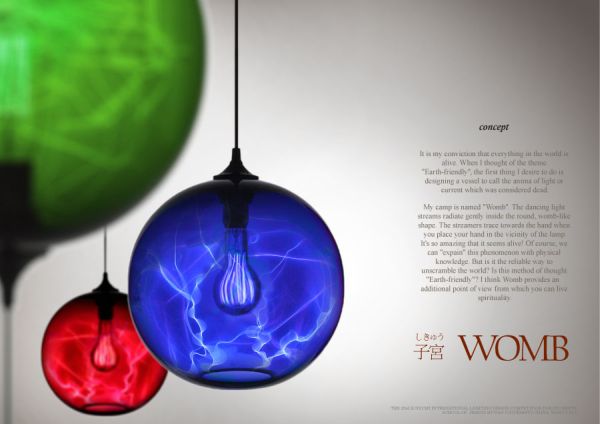 The pendant pictured above is the creative design by Sion Wang. The lighting device has a spherical shape and has been named the 'Womb' for the fact that it encapsulates the very anima of light and current, which was hitherto thought to be dead. It has radiating light beams visible inside it and touching a beam surges towards the contact point which makes the entire thing appear alive. It seems to be visual representation of dynamic patterns of visible energy. You can turn on some music and obtain a rejuvenating spiritual experience.

There is definitely a scientific explanation for the process but if one looks beyond it, then does this Womb lighting explain the mysteries of the world? Can Wombl lighting provide a spiritual dimension to our lives? If yes, then is that what is meant by "earth-friendly"? The maker strongly feels that with Womb lighting one can obtain an alternate spiritual vision in life.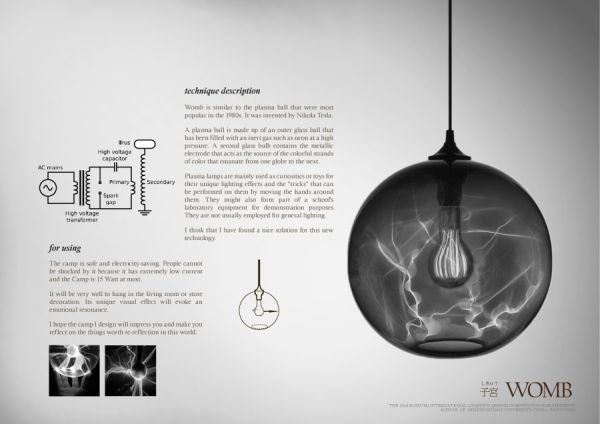 The concept of the Womb lighting can be traced back to the Plasma globes, which were popular in the 1980's. The plasma globe was first invented by Nikola Tesla while he was experimenting with high-frequency currents in a vacuum glass tube to study the high voltage phenomenon.
Normally in the modern versions, the spherical plasma globes made of glass are filled with inert gases such as helium or neon and in some cases krypton or xenon at high pressure driven by high-frequency alternating current. This current is generated by a high voltage transformer. In the glass sphere there is a second bulb, which has the metallic electrodes from which the light strands emanate. When one places his or her hand on this globe, it alters the frequency of the electric field and as a result a light strand migrates to the point of contact hence the "alive" effect.
These lamps are mostly used as curiosities or toys and enjoy immense popularity because of the wonderful light effects that are created and the magical and spectacular visual effects created by touching the sphere. These plasma balls will liven up any corner of a room.
Womb lighting can be an exquisite addition to your home decor. It can liven up any dark corner beautifully. The lighting effectively transports one into a spiritual realm. It is also a safe product to use since the fear of electrocution is negligible . The lighting is a low current option and the camp uses 15 watt at the most. Also, if you are not really the spiritual type then you should note that the Womb lighting is an excellent party decor element too! It has an impressive trance effect on the lighting to illuminate your interiors.