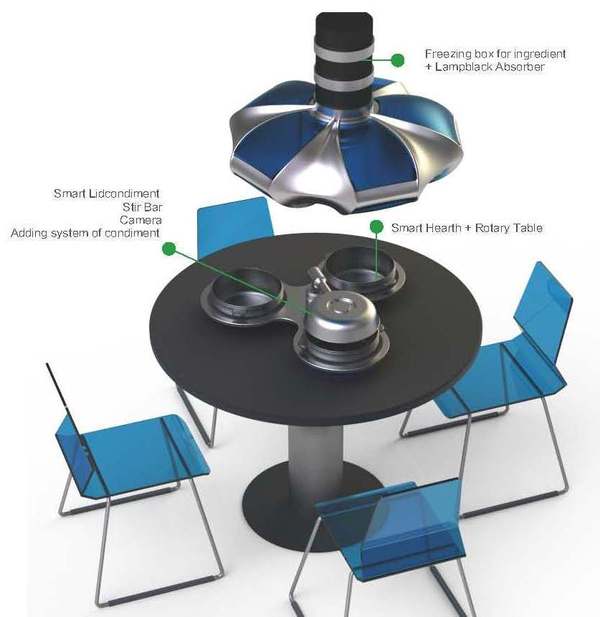 The Product
In this century, where one is required to be constantly on the move , cooking a good meal has become a luxury and necessity. Cooking meals is somewhat time consuming ans with the hectic days' schedule, we are left with very less time and energy to enter the kitchen and come out with different dishes. The new Smart-3G Kitchen can revolutionize the way meals are cooked. This product uses technology in a brilliant way to make the process so easy that the preparing meals will literally be on your fingertips!
You can cook a meal without even stepping into your home with the help of the 3G technology. This product allows you to give instructions through your mobile phone and accordingly the meal gets cooked at home and you can actually see the whole process. Cooking is done by instructions conveyed digitally through touch-screen, camera, microphone and so on. You can see the ingredients and seasonings being added and so on, the feeling is a virtual recreation of actually being and cooking in the kitchen.
So, with the 3G smart kitchen you don't miss a meal just because you are stuck at work or traffic and your family members can enjoy a healthy home cooked meal even while you are not at home!
The Designer:
This revolutionary product which changes the conventional ideas of cooking in a kitchen was created by Sion Wang for the '2010 'Fifth Vatti Creative Kitchen Industrial Design Contest'. This design won a gold medal at the event.
Designed with the aim of creating something that would simplify the process of preparing meals, this hi-tech kitchen uses technology to allow a person to cook by giving simple instructions even from a place outside the house.
The Key Features:
One of the coolest features is the 'Lampblack Absorber' which is suspended and holds all the ingredients. There is a cold compartment or the freezing box where you can store the clean chopped ingredients, which are fed into the pans by the feeding device during cooking. It has an exhaust duct and also features for air intake and an oil box.
The three cooking pans have a smart lid that has a camera so you can view what's happening within it. It can help you add condiments, water, oil and it also has a 180 degree rotating stir-bar and also allows pneumatic control.
The three pans are placed on a rotating induction cooker. This can rotate 360 degrees and is very functional. This induction cooker is placed directly below the suspended lampblack absorber. The process of cooking is very simple; upon your commands the lid from the lampblack absorber opens and condiments are fed into the pan that rests directly below. So, three dishes can be cooked which should be sufficient for a regular family and the whole process that too with the touch of your fingers no matter wherever you're.
Via: Behance