When you are going eco-friendly, every small move you take is important. If you have recently shifted your house; you are bound to have cardboard boxes that you may no longer use. Cardboard boxes are used for a variety of reasons. Instead of polluting the environment by doing this, you can transform the leftover cardboard boxes into something more useful. With the modern world giving significant importance to sustainability and is pondering on different options to live 'green', sustainable cardboard furniture becomes an important furnishing option. By intelligently opting for eco-friendly furniture pieces, you will be taking part in protecting the planet by reducing landfills and preserving more sustainable forests. Below are listed some of the stunning cardboard furniture ideas that are functional, easy on the environment and aesthetically appealing.
Stool made from cardboard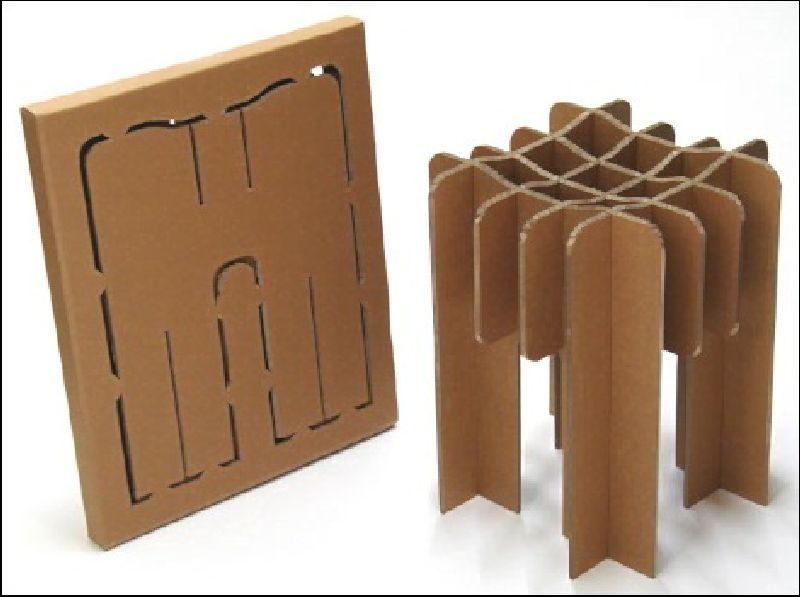 Who would have ever thought that you could make a stool from cardboard paper? Well, do not be fooled by the fact that this stool will not be sturdy. The use of thick and durable cardboard sheets is the main feature of this furniture. The more thicker the cardboard paper; the better it is. Even the design placement equally plays an important role in how steady it will be.
Wall hangings made from cardboard
Instead of having wall hangings made from cloth, use cardboard paper instead. Use lace, ribbons, mirrors, beads and practically any kind of decorative pieces to personalize the touch. Paint the wall hanging with different colors and give your wall a new look.
The toy cardboard car
If your kid loves to drive, then make a car with your own hands. In this idea, you can use any cardboard box and transform it to look like a car. Do not forget to give it a good paint job and your kid will be very happy with it.
A bookshelf or folder rack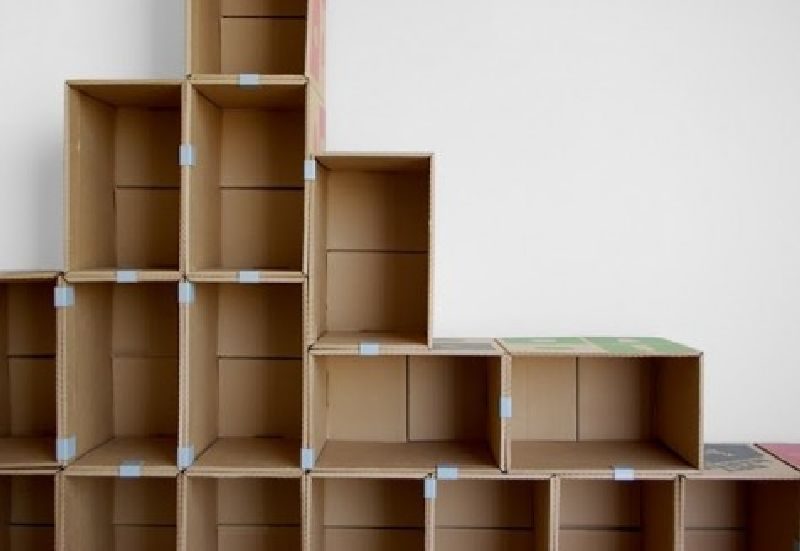 Instead of wasting money on a steel or wooden cabinet, you can make an economical one with cardboard instead. In this idea, you can use heavy duty and ultra thick cardboard sheets for the frame and shelves as well. While assembling this idea make sure you leave enough of space to stack up your books or shelves. Keep the heavier ones on the base and the lighter ones on top.
Your very own organizer
Create a nice wall caddy and organizer by using cardboard paper. You just have to cut triangular shaped cardboard pieces and stick them together. Then just hang this on the wall and store all your small items in it. To beautify it, you can paint it or decorate it in a variety of ways.
Side table for the bed or living room
Looking for a cheap and beautiful looking side table, you can create one yourself. A very simple and fast way to do this is by using any cardboard box and places it on the side of you. To prevent it from falling inside, you can place a small wooden plank on top of it so that it sustains the weight. While working on this idea, you can also consider cardboard drums that are used by movers and packers.
Make your own chair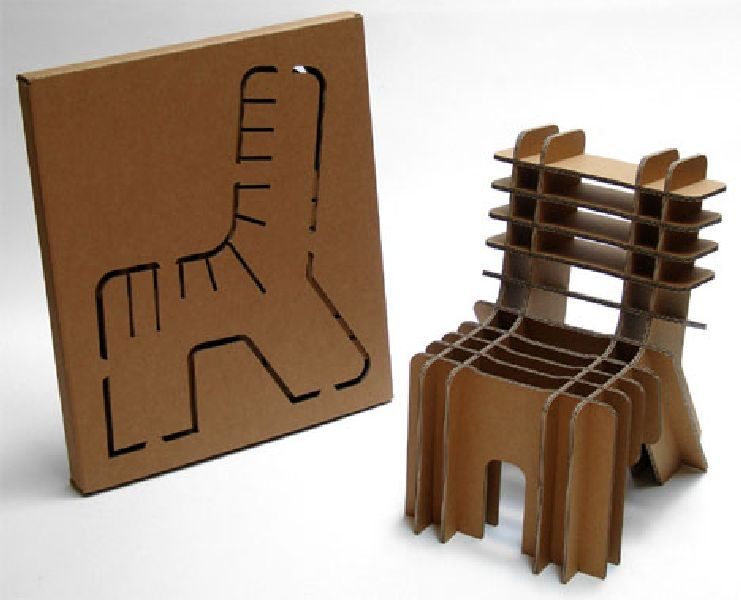 Talk about eco-friendly, durability and functionality, this chair is the answer for you. This versatile looking chair transforms into a launcher or an armchair depending on the need. All you have to buy is a nice perfectly sized long cushion or soft mattress and you are done.
A dog/cat house
For your four-legged baby, you can make a space for him/her using cardboard. To do this, you would need a big sized cardboard like the ones you get for the fridge, a pair of scissors and some glue. Design the house the way you want and cut the parts. Then assemble and make your very own dog/cat house.
A lampshade from cardboard
The beauty of a lampshade does not come from the light but from the material used. You can use cardboard paper to make your own lampshade. Give it any shape or size and place it in the living room or kid's room.
Lampshades from cardboard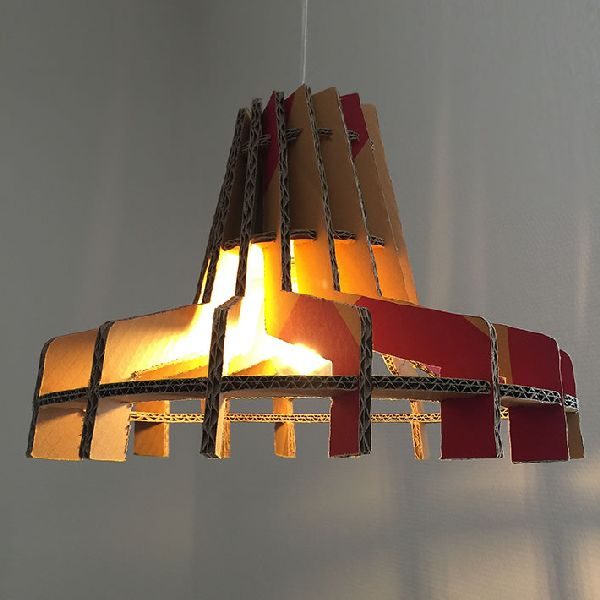 Use cardboard sheets to make lampshades out of them. These make the ideal option when you are considering pendent lighting. There are so many DIY ideas and variations that you can get inspired from. Paint them or even decorate them with different craft items.
Wall art for your kid's room
The best part of having a kid's room is that you do not have worry about decorating it. You can use cardboard cutouts and make different designs and shapes. Get your kid to paint each of them and stick them on the wall. This can become a great way to decorate the place and keep your kid busy.
Volvo Seating Unit
The Volvo Seating Unit is a sustainable seating unit made from durable cardboard. The winner of the "Volvo for Life Design Awards" in the category of sustainable projects is modular furniture made of cardboard layers. This inviting chair is inspired by the shape of the tail lamps of a Volvo car. Since it flaunts a unique shape associated with automobile, car buffs find it an easy way to flaunt their passion in a distinctive way. They can display not only their passion for car, but also for environment, by placing this Volvo Seating Unit in their living room.
The stunning work of art is made from sustainable cardboard. The unit constitutes a cylindrical side table and an ottoman. Since the various units are detachable, you can save space by putting together only the necessary ones.
Cardboard chairs
When people with 'green' thinking put their creative talent at its best wonderful objects will come out. One such instance is the beautiful chairs that are made from durable and sustainable cardboard. Attractive and solid chairs and stools can be made by pressed corrugated cardboard layers. Infact, you also have designs that come with storage space and other such useful functionalities.
Portable Cardboard Table
A daunting variety of versatile Cardboard Tables have been created by proponents of sustainability. Portable Cardboard Table is the brainchild of Sruli Recht, Liborius Reykjavik and FormFast. Flatpack cardboard pieces are sliced in an ergonomic pattern and are attached together to create nice mobile table units. The biodegradable table features drawers and storage components. When not in use, you can store the table unit aside by flattening it. This is also perfect for people on the move and cannot buy a proper table.
Disposable Cardboard Bed
Nikolay Suslov has come out with an innovative bed design that involves cardboard as the main component. The Russian designer has drawn inspiration from the chaise lounge and diverse type of beach chairs while designing this highly innovative and chap bedding solution. To make this bed long lasting and water-resistant; there are fieve layers of corrugated cartons that undergo special treatment. This bed is also an ideal solution for the homeless; which is one of the biggest concerns in many countries. This bed will atleast give homeless people a chance to sleep on a comfortable piece of furniture. Well, you can surely use this idea for your home and save money on buying a bed.
Cardboard bookshelves
This innovative circular-shaped cardboard book shelves are created under Eric Guiomar's cardboard creation program. Designed to look more like sculptures than storage systems, the inventive product can add a very original sustainable character to any space it has been fitted. The storage system is capable of becoming the center of attraction in living space or office. This affordable book shelve is affordable and highly sustainable and durable.
Steady and light Cardboard Stool
Turkish designer Erdem Selekis has created a highly innovative and sustainable stool named 'Z-tabure' made of cardboard. This easy to carry and lightweight seating unit does not involve aspect cutting, stick or any other tools for assembly. The stool is ideal to be used in parks; camps and public get together events. You can give a different color to the stool by re-assembling and overturning it inside out.
Recycled Cardboard Furniture
A stunning instance of how to transform cardboard pieces into highly useful and fine-looking furniture; this recycled furniture made by Lazerian Studio is a beautiful idea. Taking the inspiration from the composition of wasp nests and crystals; the new range of cardboard furniture was launched at designers block at interiors 2010 by the UK-based design studio. The chair flaunts the creative talent of designer duo, Liam Hopkins and Richard Sweeney.
Biodegradable Cardboard chair
Spanish design studio SanSanserif Creatius has debuted their futuristic and sustainable chair; that is made of 100% biodegradable corrugated cardboard. The screw-free assembly makes the construction unique. This bold chair is created by piling 5mm thick cardboard sheets. Those want to display their love towards nature and sustainability; can place this chair in their living room as an open declaration of their passion.
Recycled Cardboard Conversation Table
Creative designer Leo Kempf has crafted a unique conversation table made of corrugated cardboard, hardboard, and coated hardboard spacers. This highly sustainable table measures 33″L x 20.25″D x 18″H. Designed to resemble a colossal speech bubble, the table is durable and can function in a great way as coffee table. Frank Gehry's "Wiggle Chair" is the inspiration behind this piece of art. The construction involves stacking up of numerous sheets of corrugated cardboard.
Cardboard Box Furniture
Dutch designer David Graas is the creator of wide variety of cardboard furniture. You can mold this unique furniture into a lounge, coffee table or even a dining table. Depending on your need; you just have glide the cardboard sheets accordingly.  The innovative cardboard lounge is made from corrugated cardboard parts. The chair flaunts ergonomic design offering ultra comfort to the user.
Summery
Besides the environmental benefits, the use of cardboard and other sustainable furniture is better for your health. In the long run, they will prove to be beneficial for your wallet also. Cardboard is a valuable alternative to wood and the fact is that they are recyclable adds further merit to it. Embracing these kinds of cool cardboard furniture is the best way to go green in terms of office and home furnishings.