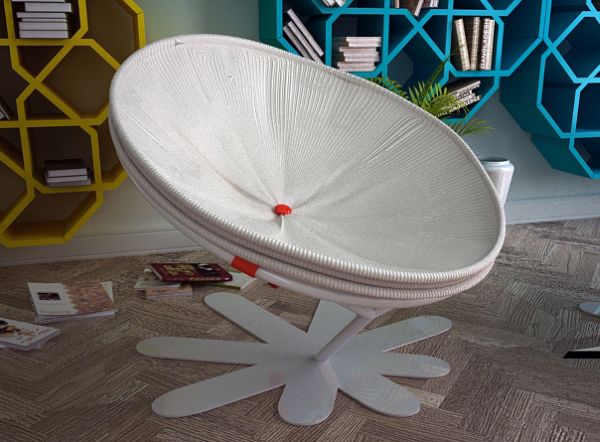 Granted Moroccan designer Younes Duret has something of a reputation for being innovative with the most commonplace Arabic symbols and turning them into the most fashionable statement pieces known to modern design, but you take one look at this whimsically-named collection and you're just dying to ask-why on earth does he call this chair a 'tarbouche' and not a beret?!
The Tarbouche Armchair from his latest collection quietly follows in the tradition the designer has so emphatically established and if you overlook the name, it's a stunning piece following in the footsteps of masters like Arne Jacobsen (of the Egg Chair fame) who opened up the boxy modernist chair and gave the piece of furniture that lovely roundness which we all have come to love so much.
The Torbouche Armchair's beauty really lies in the eye of the beholder-it is at once reminiscent of a martini glass, a beret (and NOT a tarbouche!), a bunch of pancakes topped with a cherry and even a satellite dish sans the transmitter! Throw in the 'flower-power'-esque base and the chair metamorphoses into a complex metaphor for the uptown fashionista looking for nirvana in her living room. The bright
orange bits on the pristine white color scheme lend the chairs an understated boldness, a kind of demure sexiness if you will, making them both coy and playful at the same time.
The coffee table in the collection, however, really hits us with its naked industrial-ness. The metallic legs and floral-motif base take much of the softness away from the white painted wood top. Although in the larger picture and as a collection, the mattress-like cushions on the chairs do soften up the landscape considerably.
Via: Younes Duret Design