The outdoor kitchen concept is so much of fun. You can have the best family dinners, endless of fun with friends and even have parties. Sometimes sitting in the midst of an open-air kitchen will also help you to relax and rejuvenate from everyday stress.
If you do not have an outdoor kitchen, then it is time you should consider getting one done. The size of the space is not what is important since you can customize it to the space you have at your disposal.  With the help of a little inspiration, you can mix and match ideas to create a unique outdoor kitchen for yourself. Let us check out a few ideas that you can consider for your outdoor kitchen.
The all in one outdoor kitchen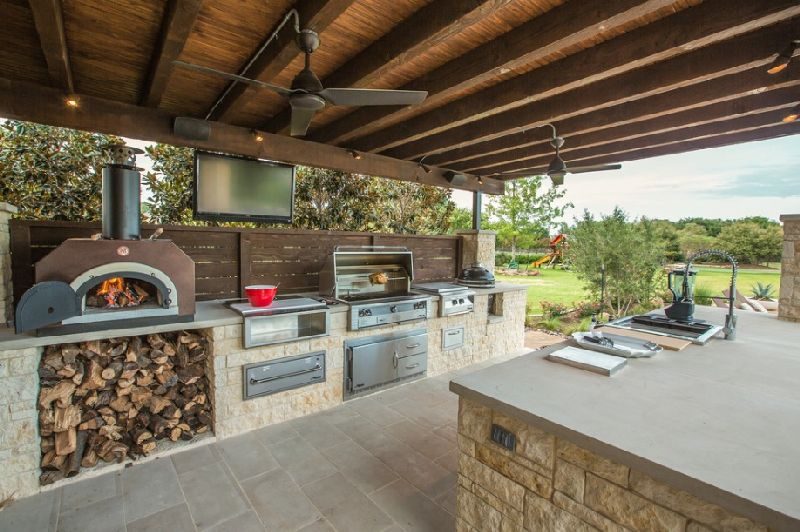 When space is limited, having a big kitchen is not possible. You do not have to get disheartened because of it. All you need is one corner wall for this concept. Create a nice, long aluminum or steel cabinet space depending on the size, length and width of the wall. In the top most shelves, you can keep your extra stock of groceries and other such things that you would need for your coking. On the work counter, have a small sized cook top on one end and an all in one griller/fryer and BBQ unit on the other side. Use the lower shelves to stock up wood (if you need it for your outdoor fireplace).
An outdoor kitchen with a seating area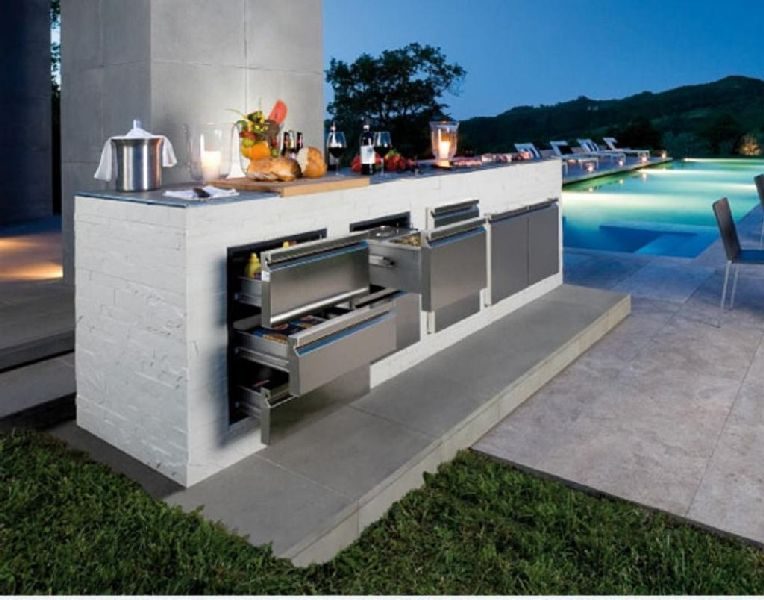 For homeowners who have a lot of space, you can create a nice deck with two or three stairs. Have a seating area made right in front of the kitchen. To create a partition, you can consider having an island made from natural stone. In the kitchen area, have a marble countertop with enough of cabinet space. You can also consider having a small sized refrigerator, a deep freezer and even a bar if there is space to accommodate one.
 The U-shaped wood and steel kitchen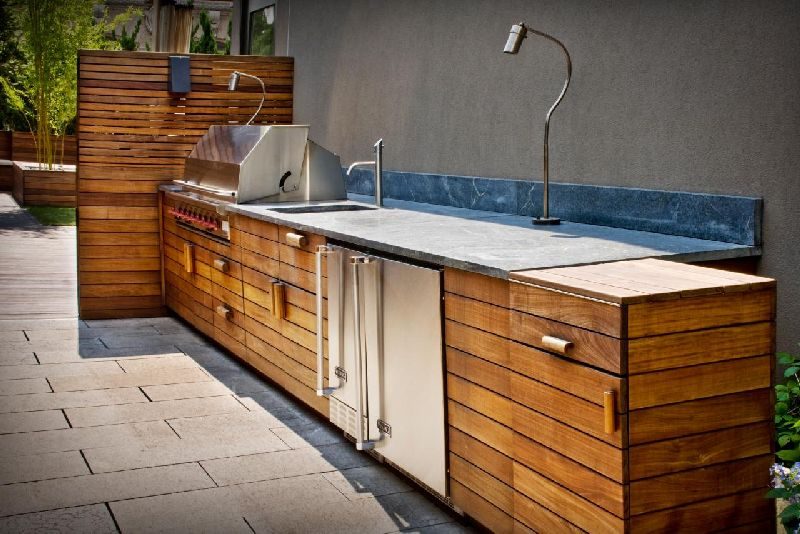 The classic combination of wood and steel or aluminum shelves will always be a good choice. This kitchen idea is easy to maintain and beneficial in many ways. The U shape is ideal when you want to have a fully functional kitchen even if space is limited. You can consider having a prep area and a BBQ grill on one side. The U-shape gives you enough of spaces to have a properly sized kitchen within the limitations that you have.
An outdoor kitchen with a fireplace and seating arrangements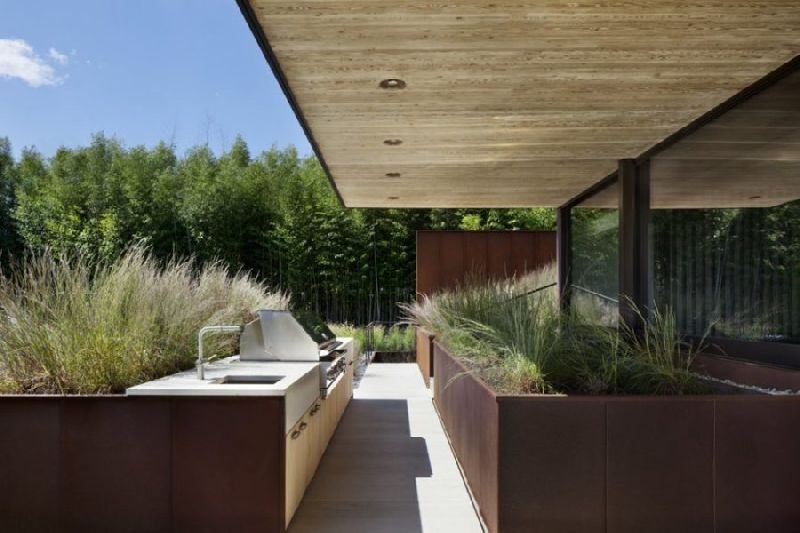 A beautiful concept when you have a nice backyard, this multifunctional place is all you need for your outdoor kitchen. The stone fireplace within the same area of your kitchen is ideal for the cold winters. You can have a BBQ and grill next to the fireplace. For the kitchen, you can consider having a small-sized wooden cabin made with an open door system. Design a fully functional kitchen with a dishwasher, cabinets, kitchen top, refrigerator and everything that you need. The seating arrangement can be either a nice sofa set with a center table or a dining table with chairs.
Stone and metal cabinet kitchen area with a shack rooftop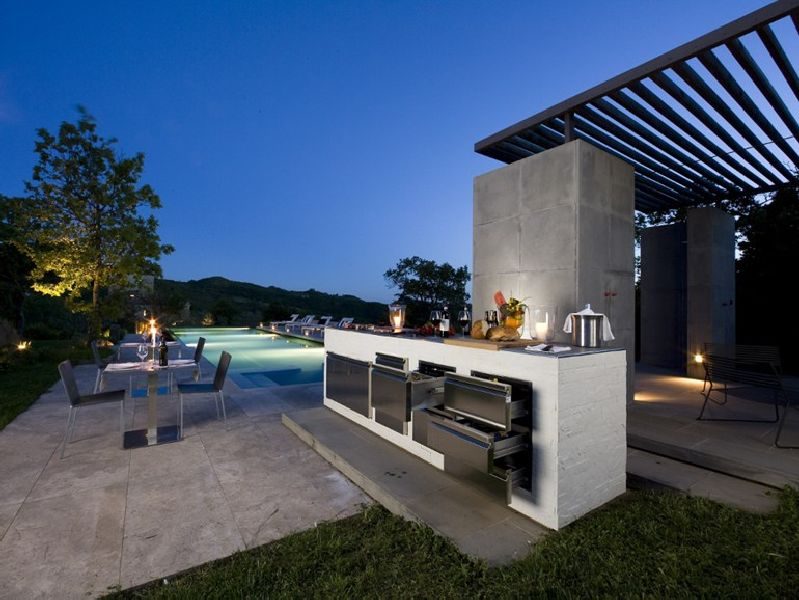 People who live in the tropical regions or for those who enjoy the summers, this idea is a good one. The all-stone base with granite countertops will be very easy to maintain. Use metal cabinets instead of wooden ones.  The shack rooftop is ideal for the seating arrangements or, if you want, you can cover the entire kitchen space. This way, you can use the place even during the rainy season.
The open-air kitchen with a small covering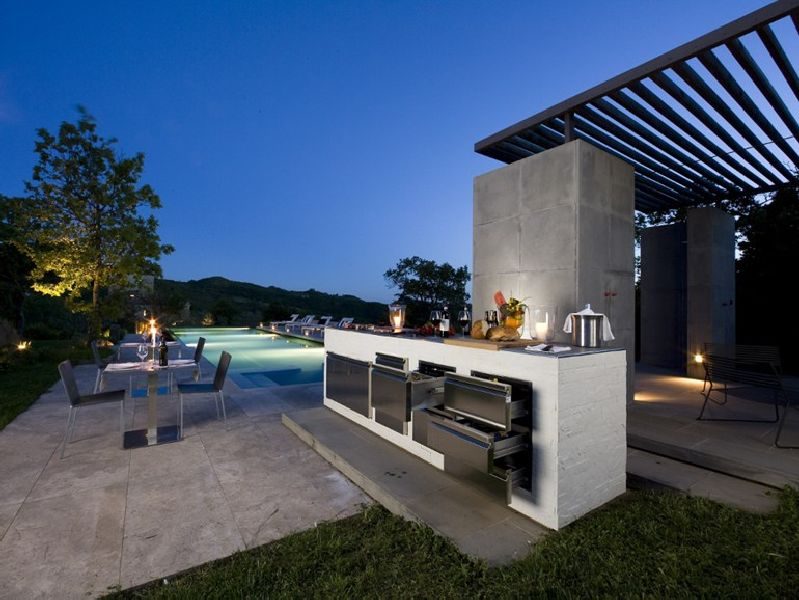 When you have a gorgeous view in front of your house and enough of space for a kitchen, you can use both of them to your benefit. Design a nice kitchen area by having a small dining table with long benches and two regular chairs. Have a U-shaped kitchen where there is a sink on one side. Consider having different zones like a cooktop with a small sized oven on the center, a small sized refrigerator and/or deep freezer and a dishwasher on the other side.