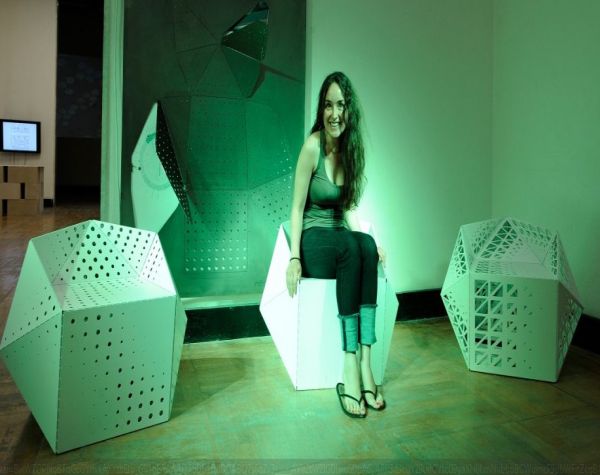 Like a breath of fresh air origami is slowly invading our drawing rooms with a new and chic appeal. This style is being revisualized by the Hedronic chair that reminds more of paper bubbles that group to form a cloud-like throne for us to sit. The chair is heavily indebted to the geometrical polyhedron concept for its shape, and therefore the name. It has been designed to epitomize lightness with an airy simplicity.
The Hedronic chairs were designed by anOther Architect, a firm based in Berlin, in collaboration with the Russian architectural firm, Nayada. The designers have taken the liberty to transform strict geometric shapes in paper-like light shells and harmonized them with decorative perforations to form restful armchairs. The resulting seating styles look more like origami art objects exemplifying simplicity and lightness. This exclusive and exquisite geometric seating option adorned the recently concluded ArchMoscow exhibition in Russia. The designer had displayed three new patterns based on the geometric principles for the show.
The chairs, more than being fun and unique objects for home décor lend a calm peaceful touch to the surroundings. It is an ideal complement for public lounge areas, art studios, restaurants, modern verandas and also for your private den.
Via Contemporist