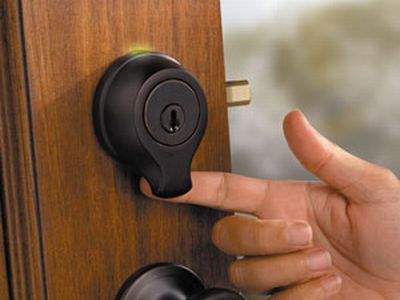 Home security has always remained an issue for the owners. You probably are living in the last century if you are still using keys to enter your home. How about giving commercial and government styled security to your residence? Kwikset's SmartScan is a residential biometric keyless entry system that can be used in the external and internal doors.
The deadbolt is battery powered and all you have to do is to swipe a valid fingerprint across the sub-dermal sensor to activate it. The SmartScan makes use of RF electronic imaging to read live fingerprint patterns, which lie underneath the sub-dermal outer surface layer of the skin, thereby safeguarding it from dirty or shabby fingertips.
The device can be programmed with 50+ user fingerprints and touts a special feature dubbed 'lock out feature' that lets the home owners use three different levels of access options. Don't worry if you are thinking of what will happen if it runs out of battery as every system comes with a back-up key.
You can have the SmartScan in varied finishes, including satin nickel, polished brass and Venetian bronze, for $199.
Via: ElectronicHouse