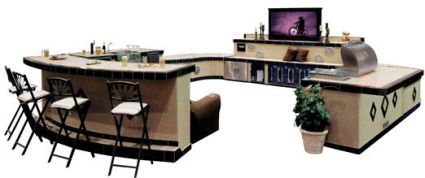 I have seen some great outdoor speakers as of now. Now it's time for outdoor theater. I wonder how they are going to project the video outdoors? The answer is 63-in HD, anti-glare, and anti-fog LCD TV, 7.1.
The best part is: some of these outdoor theater systems have an inbuilt grill integrated with them. This way you can cook your burgers and hot dogs over the grill, then raise the automatic plasma screen to watch a movie and chill out with your buddies.
This is the latest and coolest 'top of the line' product from Cal Spa's. Here's more details on the features. Cal Spa provides 5 burner grill as well as 2 side burners , a wet bar with a seating capacity of 5. If you feel the cold breeze on you, there are two fire pits that can crank the heat up.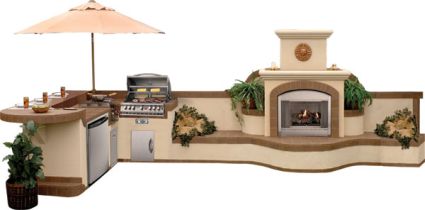 The reclining seats have cup holders attached to them. There's also an iPod docking station attached with this integrated outdoor kitchen and theater system. Also provided is a kitchen sink. I think this is the best thing I have come across so far. I haven't found the pricing info on the cal Spa website yet.
There are various models of this system. You can get ultimate series BBQ islands. So, this is basically going to be your ultimate residential party bar. If you want further amenities, you can also add a hot tub. That way you and your buddies can just sink in the tub for a great time.
The company website provides more details on this. You can customize the system according to your needs. The website gives you a chance to change different colors as well as texture. There's more to it. Assuming you have cash to throw away, you can add other hardwares to the modular system. I think Cal spas system is a great system to have in your backyard.