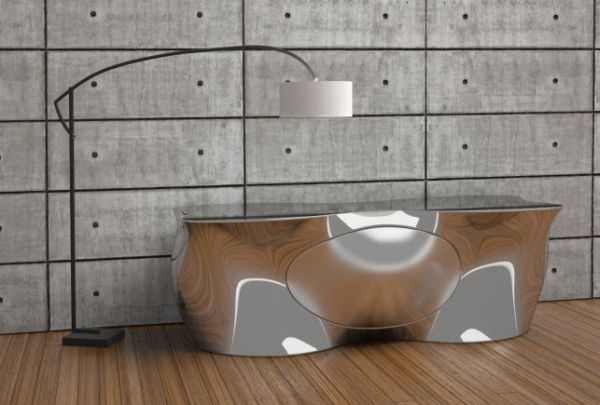 At some point of selection for your household furnishing, you would have surely considered buying a console table. You would also have got a chance to see a variety of console tables in different shapes, sizes, art styles and finishes. But, have you got to see a piece for your sidewall that not only allows placement of things on the table top, but also within it and that too with an exclusive touch of sophisticated art? If you too are the kind of person who appreciates sophisticated and modern art style, then here is something special that designer Jason Philips brings to your notice. This is the Holey console table that can equally impress those who like a matte finish, as well as those preferring a glossy finish in their furnishing.
The Holey console table has a form that gives a reflection of liquid metal. It offers an ovular center featuring brushed metal. In the center compartment, you can safely place your valuables and get away from the tension to remember where you placed them. This console table gives a sort of resolved feel, as well as a separation of the chromed table bulk from the center compartment. Its special curves, spicy edges, wavy cuts, merged finishes and stylish material changes make it a royal possession.
The Holey console table, when placed inside your house near the entry point, will never let you forget important objects you regularly need to carry. Also, it will never let you lose precious items as its center cell safely protects them. In fact, this exclusive feature of being able to carry things inside and outside makes this table stand out. It is a comprehensive console unit for multifunctional usage. You may use it as a display table for accessories and decorative objects by placing near your sofa set. But, if your prefer to secure it against a sidewall or just make it sit there, it serves as the best place to keep your regular-use items, such as handbags, watches, wallets, keys or shades.
An expert in furniture design, Jason Philips has crafted a masterpiece that can be matched to varied decoration styles. His designer console table can provide a wonderful classy look to your specially designed hall, or can create a glowing magic when you put your colored lamps on it. The Holey console table can be made available in different sizes/dimensions as per your requirements and special order. Advanced techniques of electroplating are used to create your personalized piece of furniture. So, ready to order the versatile Holey console table and make it a prized possession for your hallway?