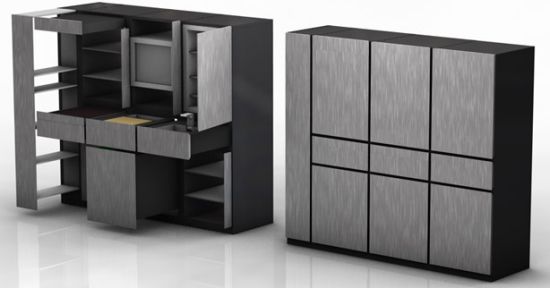 Kitchen is obviously one of the most important parts of our house. And if you are someone living in a small apartment, or don't cook too often, then this one is for you! Look at the picture above. Guess what? This is a kitchen and a cupboard. Cool, isn't it? You can open the kitchen when you have to cook and when not in use, the kitchen gets hidden stylishly behind trendy chrome front panel.

What's different? Kitchen, fused with cupboard, to make your apartment look elegant without covering too much of space. What else any one could wish for and I think this fusion itself says what's different in it. Brainchild of Mario Weiss, this fantastic kitchen cum cupboard, is an unique, simple or you can say an ideal solution for small interiors.
Price and Availability: No words about the cost and availability of this FUSION but one thing I know for sure is that I really would like one for my cute little apartment. Click here to get more info.