Transitional interior design basically combines elements from traditional furniture and uses them in combination with contemporary pieces in a way that is aesthetically pleasing and makes the diverse styles look in sync. You can use the following way to create perfect balance between traditional and contemporary furniture.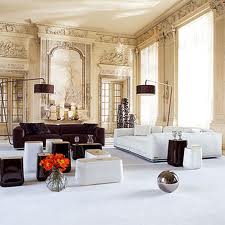 1. Traditional furniture in contemporary colors
The simplest way to blend traditional furniture into a contemporary décor is to refresh them contemporary colors. This will allow you to showcase your traditional furniture in a unique yet truly modern way.
2. Traditional textures on contemporary furniture
In case you want to blend a few pieces of contemporary furniture into a largely traditional décor, you can easily finish your modern pieces in traditional materials, textures and color finishes to your contemporary silhouettes a traditional look.
3. Mix seats and tables
Contemporary and traditional styles are most easily mixed through the combo of seating and tables. You can mix traditional tables with modern seat or vice versa. The method works beautifully for living rooms though you can just as easily add traditional chairs to a modern dining table or add modern chairs to a traditional dining table to get the same effect.
4. Use color scheme to blend traditional and modern furniture together
If you want to create a seamless blend of modern and contemporary furniture in the same room, you can simply use colors and fabrics to create a sense of continuity in a room. Use the color of the upholstery on the traditional chairs and repeat them in the cushions used on contemporary chairs. You can also use create a sense of harmony between eh two distinct styles by upholstering both contemporary as well as traditional furniture in the same fabric or use the same finish on the wooden elements of different furniture styles.