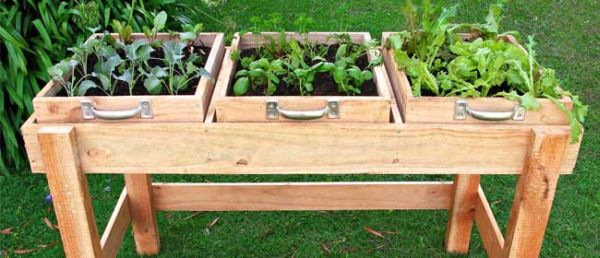 Having salad greens and herbs year round in your backyard is not an impossible task. A salad bench is just apt for your little garden. It's easy to maintain, inexpensive and will provide great pay-offs. Let us have a look at how to make a salad bench.
Difficulty level: Easy
Time required: 3-4 hours
Resources required
5 x 1.2 m x 150 mm x 19 mm fence palings
7 x 1.5 m x 150 mm x 19 mm fence palings
4.8 m x 75 mm x 50 mm fence railing
Galvanized fly mesh
6 x galvanized handles
8 g x 45 mm galvanized screws
Wire cutters
Power drill
Saw
Staple gun and staples
Wire mesh
Instructions
1. Firstly, take 4 x 1.5 m and 3 x 1.2 m fence palings and cut a 50 mm strip lengthwise off each piece. Then keep aside.
2. Cut from the remaining fence palings, i.e. 6 x 400 mm and 6 x 462 mm, for the boxes and keep aside.
3. Now for table frame, take two trimmed 1.5 m palings of step 1 and cut them into 2 x 1320 mm length. Take two trimmed 1.2 mm palings from step 1 and cut in the length of 4 x 515 mm.
4. Make the table frame using cut lengths from step 3. After screwing sides to front and back, insert two dividers at an equal distance inside the box frame.
5. Cut 2 x 1320 mm and 4 x 450 mm lengths from the strips of 50 mm. Fix them to the bottom of the table frame with overhang, which will hold the boxes in place, inside the box.
6. Cut 4 x 800 mm lengths from the fence railing for the legs. Cut rebates into the top of each leg, 125 mm long and 20 mm.
7. Using four screws per leg, screw the legs onto the table frame.
8. From the remaining trimmed fence palings (cut 2 x 620 mm and 2 x 1227 mm length) from step 1, make leg supports. Now fix them to frame, 180 mm from bottom.
9. From the pieces kept aside in step 2, make boxes.
10. Attach wire mesh to the bottom with the help of staple gun by turning boxes upside down. Using wire cutter, trim the edges.
11. Now, attach the edge of the boxes with handles.
12. Cut three pieces of fly mesh to fit each box in order to hold the potting mix in place.
13. Finally, add potting mix and start planting.
Frequently asked questions
Q: Should the fence palings be cut in same sizes?
A: No, the measurement may be different as per your requirement, depending where to fix legs to table frame.
Things to watch out for
The wire mesh should be fitted properly in order to hold the potting tightly to the table. Otherwise, the potting mix will fall down and your garden will be destroyed.
Via: DIY salad bench