To keep carpets looking their best and maximize their lifespan, they need deep, professional cleaning on an annual basis. This prevents permanent staining because professionals extract soil and other debris before it can work its way into the fibers of your carpet. Besides looking unsightly, soiled carpets can pose a health risk. They trap dust, pollen, bacteria, and other threats, and these contaminants can be released into the air whenever you vacuum or walk across your carpet.
Good carpets are a valuable investment in your home; you need to take the proper steps to maintain that investment. Manufacturers typically provide a warranty for their carpet products. Did you know your warranty may be invalidated if you do not have your carpets professionally cleaned at regular intervals? Check your carpet documentation to learn more.
How Much Does Carpet Cleaning Service Cost in San Francisco?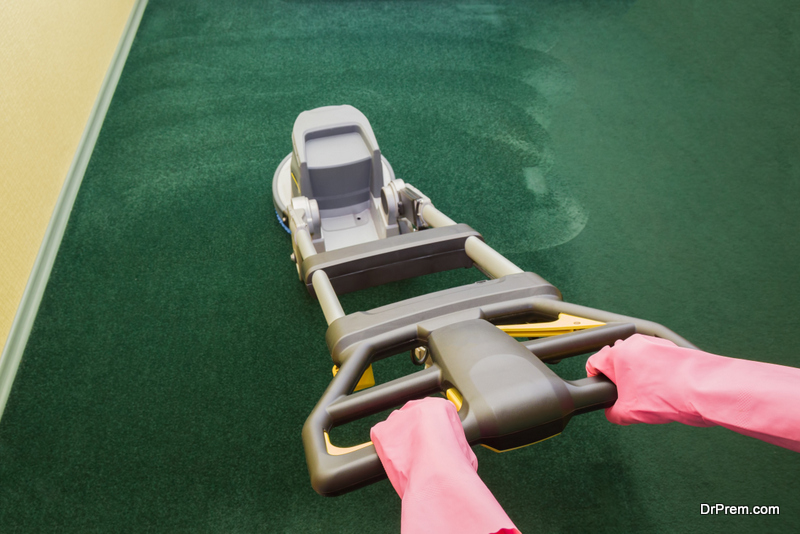 Carpet cleaning rates charged by carpet cleaners in San Francisco can vary from company to company. Your final cost will also vary based on the condition of your carpets and the layout of your home. Another point in favor of regular carpet cleaning is that it keeps the cost of professional cleaning services down. Your carpets will not have a chance to fall into an exceptionally dirty state if you have them cleaned every year.
Consider a standard bedroom measuring 10 feet by 14 feet as a useful example of carpet cleaning pricing. If the room is square and carpeted with an ordinary synthetic fiber product, most cleaners will apply their standard per square foot pricing. This is usually between $0.30 and $0.40 per square foot. Thus, the average price for cleaning an average room would be about $50 (based on a minimum 3 rooms).
Factors Affecting Pricing
As introduced above, charging by the square foot is standard practice in the carpet cleaning industry, and the range from $0.30 to $0.40 per square foot is normal. Because of this pricing structure, it's handy to know your home's square footage when you're estimating how much carpet cleaning costs. Taking a price of $0.35 per square foot as an example, professional carpet cleaning service for a 1,000 square-foot home (fully carpeted or 3 rooms totalling 1,000 square feet) would cost $350.
The price of professional carpet cleaning can be increased by a lot of different factors. Most companies will charge more for hard-to-reach areas like stairways. Cleaners will have to use smaller, more specialized tools to clean thoroughly in these conditions, adding more labor time to your bill.
If you have pets, carpet cleaning companies may charge you extra to eliminate pet odors and remove pet stains from your carpets. Specialized cleaning products are required to do these jobs properly. With many providers, dealing with stains and odors from pets entails a $30-40 per hour surcharge or a specific quote for the stain you have.
Protecting carpets by applying a product like Scotchgard™ after your carpets have been cleaned will cost more. Cleaning companies typically charge $5-10 per room or a flat rate.
1. Furnished Vs. Unfurnished Rooms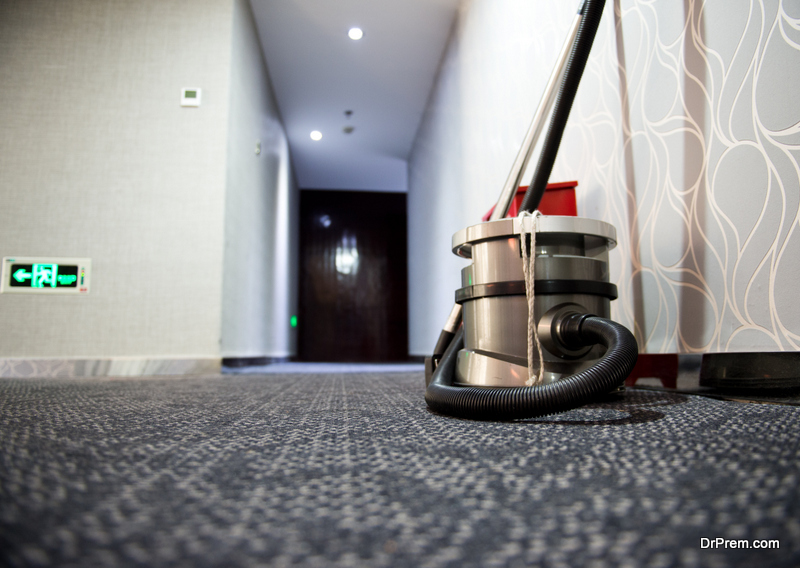 Carpet cleaners typically charge less to clean furnished rooms than empty ones. This is because the total amount of carpet to be cleaned is less. In an empty room, cleaners will have to do wall-to-wall cleaning, while they can move around the furniture in a furnished room. Average costs for steam-cleaning the carpet in a furnished room are typically in the range of $35-50, while the costs for cleaning a similar room without furniture would be $50-75.
Cleaning a carpet with a dry-cleaning technique (see below) does not have the same pricing variation. This cost, on average, $50-55 per room whether or not the room is furnished.
2. Labor
The single largest expense involved in cleaning a home's carpets is the cost of the labor for the professional cleaners who perform the work. Thus, your final cost can vary based on how much or how little labor is required. Heavily soiled carpets, complicated floor plans, and furnishings can all make a professional carpet cleaning take longer and therefore require more labor.
Carpet Types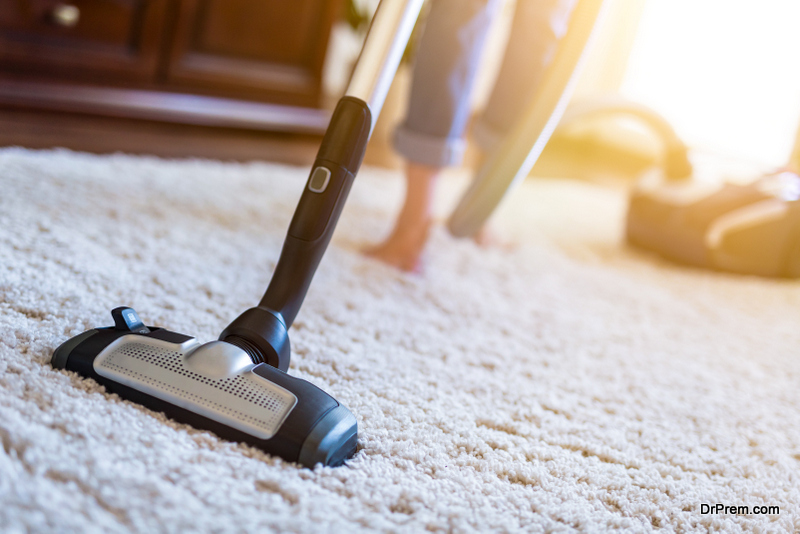 The majority of all carpets today (about two-thirds) are made entirely from synthetic fibers. There are still a few carpets out there made entirely of wool, and there are also wool/synthetic blend carpets. "Berber-style" carpets often feature a combination of synthetics and wool. Although most carpet cleaning companies do not alter their basic rates depending on your carpet's fiber content, different materials call for different cleaning techniques, which can affect the overall price. Hot water cleaning and steam extraction are the normal techniques for cleaning synthetic-fiber carpets. For wool and wool-blend carpets, though, professional cleaners will use a dry-cleaning method. The cost for this is, on average, about $50-55 per room.
Carpet Cleaning Techniques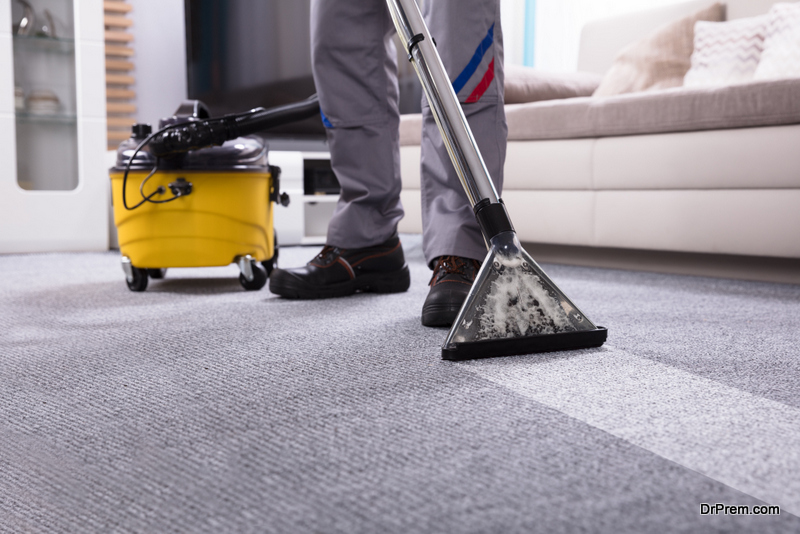 As previously noted, professional carpet cleaning companies have two primary cleaning techniques. These are hot water/steam cleaning and dry cleaning.
1. Hot Water Extraction/Steam Cleaning
To perform hot water or steam cleaning, professional cleaners will apply cleaning agents mixed with hot water or steam to the carpet. A pressurized cleaning machine is applied to work the cleansers and the water or steam into the fibers of the carpet. This machine also uses vibrating and/or rotating brushes to break up dirt and debris. A second machine is used to extract the water, cleaning agents, and dirt. After the cleaning process is complete, the cleaner leaves the carpet to air dry.
2. Dry Carpet Cleaning
Dry carpet cleaning begins with the application of a dry, powdered cleaning agent to the carpet. The cleaner then uses a rotating brush to loosen the fibers of the carpet and allow the cleaning compound to get into them. Dirt and other debris in the fibers are absorbed by the cleanser. The cleaning agent and the debris are then extracted with a specialized suction device.
Dry cleaning a carpet is, as a rule of thumb, less expensive than water or steam cleaning. The cleaning process is faster, and your carpets require far less drying time afterward.
Rug Cleaning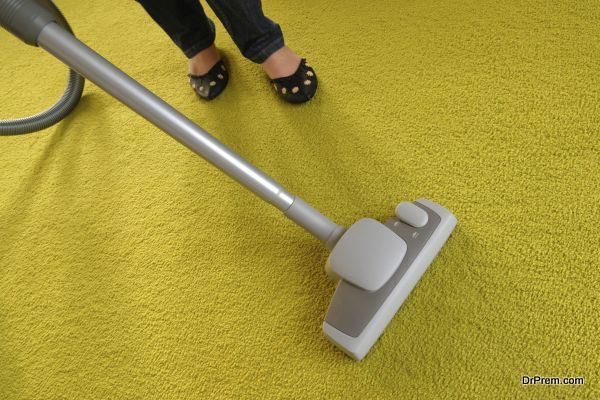 Professional carpet cleaning service is rendered in the home. Removable rugs, though, are usually picked up from the home and cleaned at a facility dedicated to the purpose. Pricing for this service is dictated by the size of the rug, with professional cleaning of an eight-foot by ten-foot rug generally costing about $160. Some carpet cleaning companies can also remove, clean, and return rugs in this manner. In other cases, you may want to hire a separate rug-cleaning service. Consult your carpet cleaners if you also have rugs that need to be cleaned.
Do-It-Yourself Carpet Care Tips
Your carpets should be vacuumed two to three times a week. This frequency ensures that dirt and other debris are not ground into the fibers of your carpets.
Use welcome mats at all exterior doors. This reduces the amount of outdoor dirt that gets tracked onto your carpets.
Apply a spot remover to stains immediately and prevent set-in. Use a commercial product designed for the purpose or make your own by combining a quarter teaspoon of liquid detergent (without bleach) and one cup of cold water.
Test your spot remover products on an inconspicuous part of your carpet to verify that they will not alter your carpet's color.
Stains should always be treated as quickly as possible; this reduces the chance of them becoming permanent.
Apply a stain-resistant spray to your carpets to help the fibers repel dirt.
If you put throw rugs down on top of carpet, test them for colorfastness so that they will not bleed onto your carpet when wet.
Include the areas under rugs in your regular vacuuming schedule.
Clean your furniture at the same time you clean your carpets so that any debris loosened from upholstery does not settle onto the clean carpet.
Schedule a professional carpet cleaning every year to maximize the life of your carpet.
After a professional cleaning, leave protective blocks in place, where practical, for a day or two.
Article Submitted By Community Writer