A well-designed kitchen requires a lot of thought and an even greater amount of planning, but the end product is always worth it. Every home is different, and you need to take the time to consider what your priorities are and how you want your space to be set up. Which kitchen fittings will match which tiles? How much space should there be between the stove and the sink? Once you answer all of the questions you need, and the dust has settled on your perfect new kitchen, you'll be glad you took the time. Follow this guide to make sure your kitchen layout is as effective as possible for you and your home.
What is the 'working triangle'?
The first thing you should do when designing a functional kitchen is create a detailed floor plan so that you can see what works, and more importantly, what doesn't. A floor plan is essential for visualising your ideal kitchen and making the most of whatever space you have available.
The 'working triangle' is a very helpful framework you should use when establishing a kitchen floor plan. This is the relationship between the three most integral parts of the kitchen: the stove, the refrigerator and the sink. Usually the most effective kitchens incorporate a design where these three features exist within a triangle, creating an optimal kitchen space with excellent manoeuvrability.
The 4 Most Effective Kitchen Layouts
The next thing to think about when designing an effective kitchen is how your 'working triangle' will fit into the rest of the space. Kitchen designers often rely on four tried-and-true kitchen layouts that make cooking and entertaining a breeze.
1.    The U-Shape Kitchen
This design is the most common kitchen layout and a very useful template to build upon. It derives its name from how the 'working triangle' is set up: each of the three working zones is on a different wall, creating a U-shape. Its versatility and simplicity means that it can be customised to just about any space, regardless of size and budget.
2.    The L-Shape Kitchen
The L-shape kitchen is built on two walls, instead of three. This means that two of the working zones will be on the one wall. Depending on the space available, you may also wish to install an island to put one of the working zones on if you need more storage space on the walls. L-shape kitchens are usually more viable when one of the two walls is significantly longer
3.    The Galley Kitchen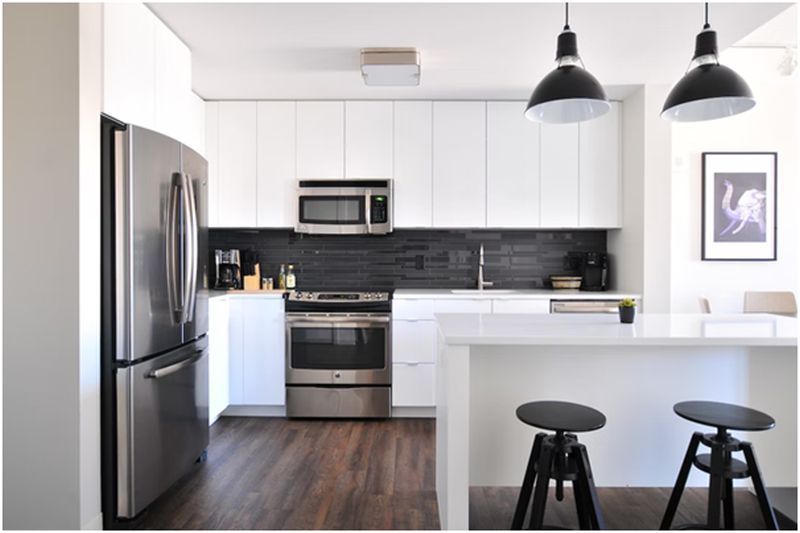 This kitchen layout is employed when the middle wall of a U-shaped space is too narrow for a working zone or for storage. The result is two long walls that face each other, with one working zone on one wall and two on the other. It's important to ensure that each zone has its own space so that your kitchen does not become too crowded.
4.    The One-Wall Kitchen
Usually only suitable in wide-open floor plans, the one-wall kitchen is exactly what it sounds like: a kitchen where the three working zones and all storage spaces exist on the same wall. If you have fluid living and dining areas in mind, this design can help you achieve it. Alternatively, you can install an island, permanent or portable, to add a little more structure to the space. The concept of the 'working triangle' also begins to dissolve here, as the working zones will be in a straight line on the one wall. It can be a very effective and aesthetic kitchen design, but may require a little more thought to bring to life.
How to choose a kitchen theme
Once you have the general structure and layout settled, the really fun part of designing a kitchen begins – choosing a theme for your cabinets and appliances. This is another process that will require a significant amount of thought, as you want your kitchen to stand the test of time whether you're planning on staying long-term or renovating in order to sell.
The first thing to consider is the architectural design and theme of the rest of your home. It probably wouldn't make a lot of sense to have an extremely modern kitchen in a mid-century house. But you could opt for a modern mid-century design, with the colours, geometric shapes and vintage appliances of the former, as well as the conveniences and sleekness of a modern kitchen.
Another thing to take into account is the appliances you already have. A mismatch of appliances is not the end of the world – far from it! Many rustic and farmhouse kitchen vibes are built around features that may not match, but that give the kitchen a homely and lived-in feel. Alternatively, if your fridge and oven have a more classic design then you may want to opt for a shaker kitchen, with traditional and timeless wooden cabinets and soft colours. You can modernise a shaker kitchen with cabinet handles and kitchen fittings that will add a bit of the 21st century to the classic design.
Ultimately of course, the theme you decide on for your kitchen is a matter of your own personal tastes and preferences. When deciding on an effective kitchen layout and theme, it is absolutely vital to ensure you explore all options and entertain as many different ideas as possible. The kitchen is the heart of the home after all, so it's worth investing the time to get it just right.
Article Submitted By Community Writer