Is there anything better than warding off the night's chill from a winter's eve with your outdoor heater? When you're rugged up with a light blanket and a steaming mug of hot chocolate while the chill creeps in, you remain impervious to the tendrils of cold, protected by your outdoor heater. It's glorious, and as a Melbourne-dweller, I know only too well the benefits of having a great outdoor heater as part of my outdoor entertainment collection.
When I first moved to Melbourne, I was but a struggling student, and so there were two winters where my housemates and I struggled by, shivering miserably in the cold at our house parties, somewhat optimistically (foolishly), in the middle of winter.
"Maybe it won't get so cold tonight," someone would suggest as the afternoon sun set devilishly early.
"Yeah, maybe," we'd agree (not very convincingly).
Suffice to say, as soon as we were able to, we scraped together enough money to invest in a patio heater and we never, ever looked back. Gone were the cold nights (and days), replaced with the glorious glow of our heater. Because this was such an incredible investment for us, we made dang sure that we took care of our new purchase and treated it almost like another member of the house. Now that I'm working full time I have been able to purchase a new heater – but I still take care of it just the same way. After all, it pays to take care of your stuff; you get more use out of it, and it's safer too. Thermofilm proposes the following tips for extending the life of your outdoor heater and I heartily agree with them.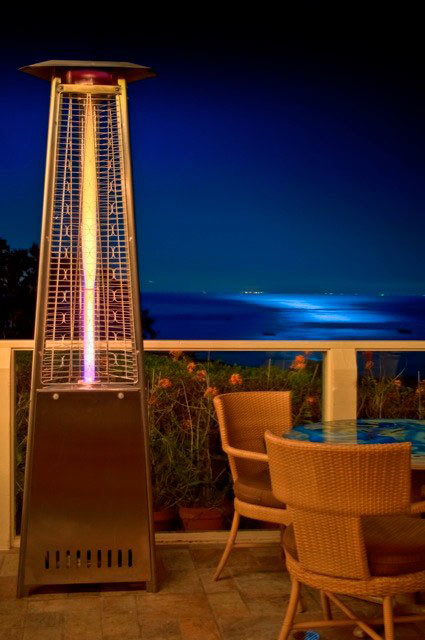 Clean it up
For a stainless steel heater, make sure you use a stainless steel cleaner to get rid of any rogue marks or rain marks. More stubborn blemishes can be removed with a light brushing, but make sure it's applies in the same direction as the stainless steel effect.
Careful where you place it
Don't put your heater on a slope, and don't leave it under a tree, either. You want to make sure that it's on an even footing as it won't impact on the stem of the heater.
Pack it away during storms
This might go without saying, but keep your patio heater packed away under cover (or under its own little cover) during any storms. It always pays to put it away when you can.
Check the gas
Make sure that the gas cables and connections are all dandy and tight. This will stop gas leakages and ensure that your heater continues to provide warmth safely and for the life of the heater.
Check the bolts and nuts regularly
The health of your heater is going to depend on how well you're maintaining it, so make sure you tighten up any bolts or securing parts as regularly as you need to. A good way to do it is to ensure that you're checking the heater at the same time as you might check the barbecue before a party, for example. This way, you kill two birds with one stone and make sure that the heater is going to be good to go for all your upcoming soirees.
I hope that this short guide on taking care of your patio heater has been useful for you and your home. It is my fervent wish that you get as much joy and warmth from your patio heater as possible and that you continue to enjoy the winter months just as much as the summer ones, thanks to your patio heater. Happy entertaining!
Article Submitted By Community writer