Ditching products after using them for quite a while is a basic human nature. However, many of them deserve your reconsideration before you finally toss them in the trash. And one such item is your surfboard that you have used for having fun on the waves and now you are up for discarding it. Wait, and give it a second thought. If you are unable to come up with some creative and useful ideas, go through this article, as it will teach you what all you can do with your old surfboard.
A surfboard chair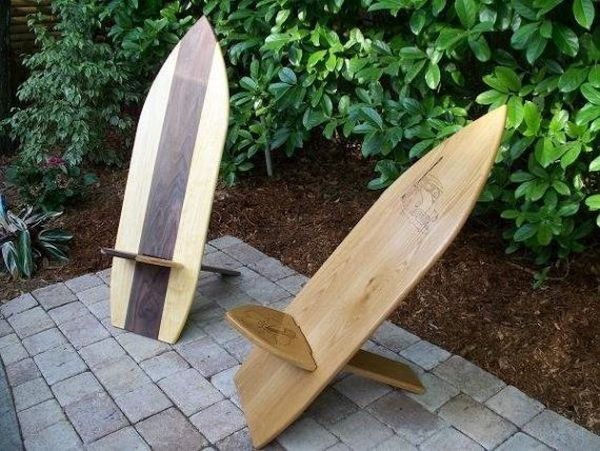 A surfboard chair is one fantastic idea you can consider to create the beach-like atmosphere in your room. You are supposed to make a chair with it for which you require two surfing boards. If you have just one, you can use it to make a chair's back with it, while using normal wood to make rest of the chair. It looks too stylish and is an easy way to sport beach theme in interior décor.
Surfboard fence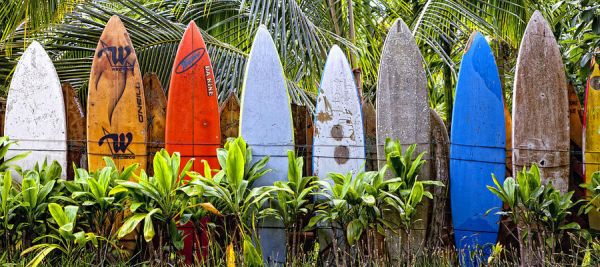 You will require a number of surfboards for this project so you can visit some thrift shops for securing them at reasonable prices. Try to pick colorful, and the ones with attractive patterns on them that will make your fence appear beautiful and glamorous. You can add an extra dash of your creativity to make things even better.
Shelf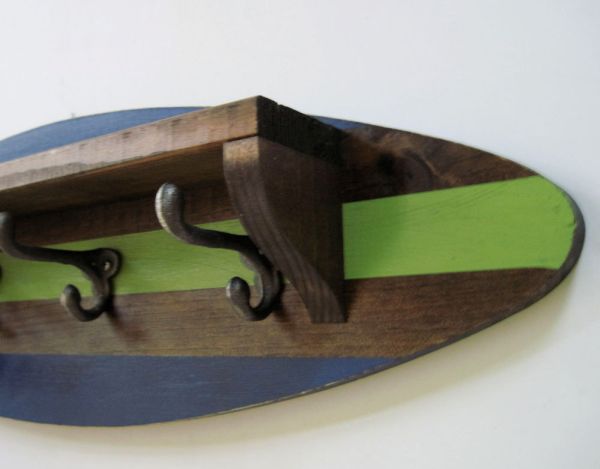 You not just use shelves to add a storage space to your room but to make it look fuller and beautiful as well. One way is to transform an old surfboard into a shelf that you can use in any room you want. To make it complement the existing room décor, you can paint it or draw some pattern on it that match the color and feel of your rooms. You can hang the shelf using brackets but bracket less shelves look more gorgeous.
Coffee table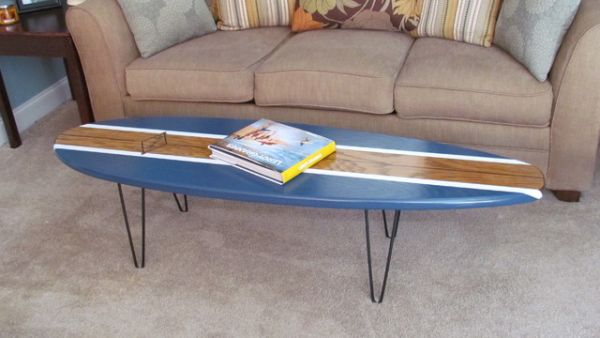 Your old surfboard can make anawesome coffee table, which will serve as a conversation piece in your interior décor. You just have to add some legs to it, and there you have a stylish and an impressive coffee table ready for use.
Shower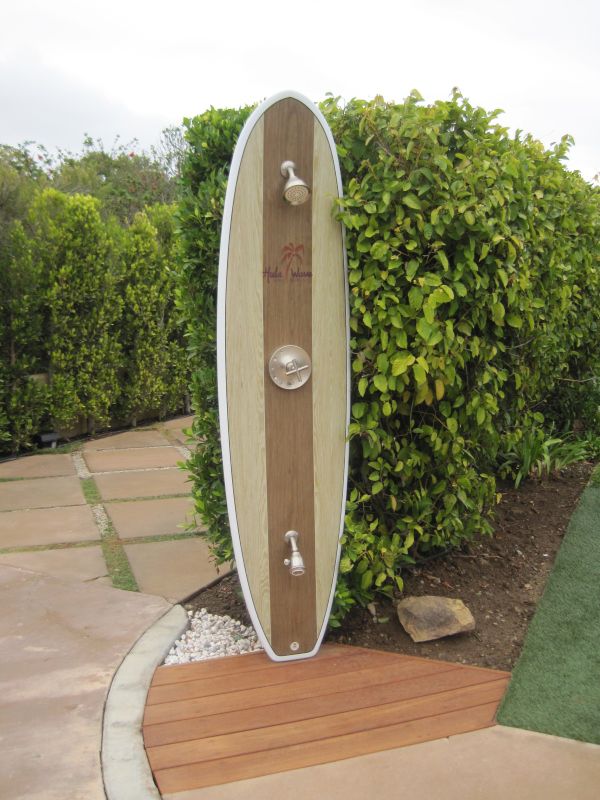 A surfboard can also be transformed into a surfboard shower that works tremendously well both indoors and outdoors. With shower and taps visible on the front surface, rest of the plumbing work remains hidden at backside of the surfboard.
You have a variety of options in decoration, as decoration depends upon your requirement and the place you want to have the surfboard shower in. Suppose you decide to have one in your garden, you can decorate it with sparkling stones or mirrors, or simply paint it using bright colors.
Ceiling light holders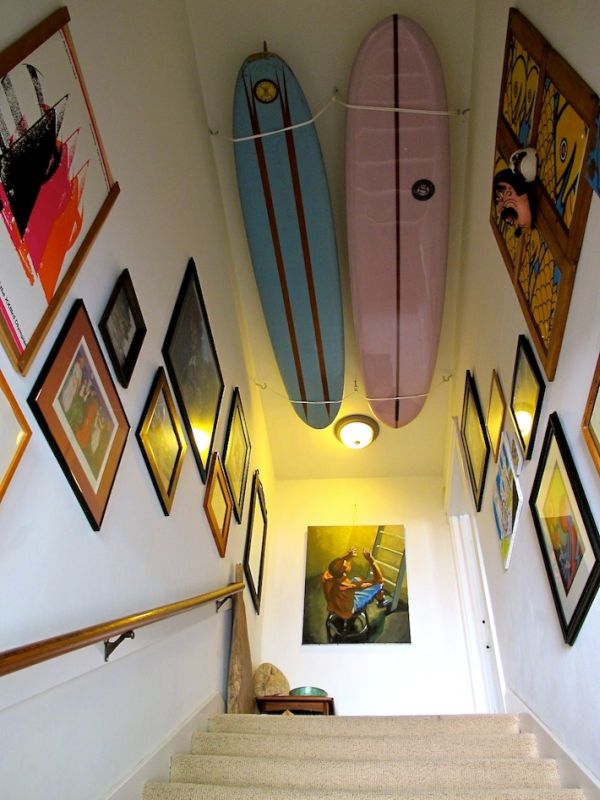 You can create a lovely ceiling light holder using an old surfboard. All the wiring will go behind the board, leaving only the lamps on display. The first thing you should do is to decide what colored and patterned surfboard you require for your project, as it should match or should complement the existing room décor.
Besides, you need to decide what lampshades you will be working with, as their and surfboard's design should jell well. Hanging this unique ceiling light holder in your dining room, drawing room and in your living room will certainly add to their beauty.
Decorative item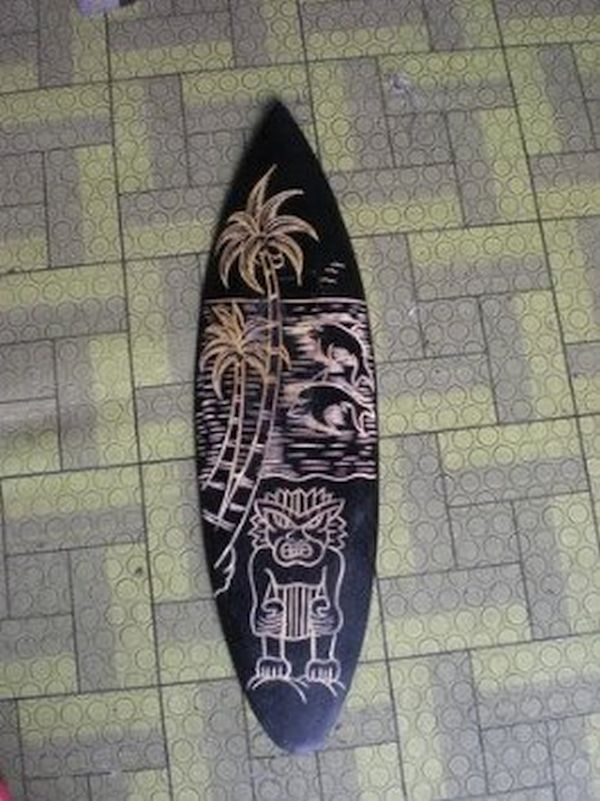 If you are not up for making any big changes to your old surfboard, you can use it as a decorative item. Place it in a corner of your room or hang it on the wall, it will look gorgeous.
It is always fun and good to use old items in new ways. Repurposing an old surfboard is also fun, as it gives you numerous opportunities to use it in a wide assortment of ways.