If you have a theater at your home, you know it's a place for family and friends and a peaceful pastime when you want. In some ways, it can be designed as a playroom for adults. Yet, kids can also enjoy this corner watching their favorite movies or cartoons.
Your movie room should be arranged so that the stay in it is pleasant and relaxing, and yet, to have the atmosphere of a real cinema. A good surround system and a flat-screen TV with a higher resolution are a good basis. On this page, check out some design basics to get the most out of this room.
The next step is to add 'details' that actually make this room a place to relax. Most people pay more attention to the technical part of furnishing home theaters than to the furniture itself. And these seating are what compliments your movie room.
Room Size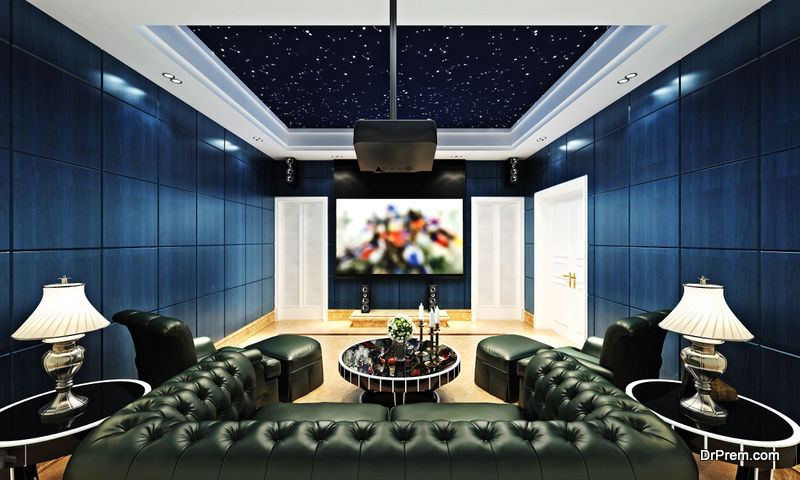 The size of the movie room is the starting point for furnishing it. Regardless of the space you have, you can equip it with taste and by your style. It is essential to follow a simple rule – do not overcrowd the area and use it as a storage space. A room of any size with too many movables will look cramped.
No matter how many seatings you want to put in your home theater, there should be enough space around them. Your 'spectators' can get up from the seat without disturbing others, just like in a real movie theater. Also, leave enough space in front of the TV screen, so that watching is not tiring for the eyes.
How Many People You Will Host
If you already have a movie room, you most likely want to share it with your friends. So you need to plan how many gatherings you will have in this area, of course, adjusted to its size.
When your guests enter your home theater, they should feel free and relaxed, which is impossible in a cramped space. With a good selection of furniture and its layout, even smaller rooms can be very comfortable.
Depending on your style and house decor, you can opt for seating sets, which are very suitable for more people or cinema-like armchairs with backs. If you plan this room to hang out with friends, a mini or snack bar is a great piece that will fit into the cinema decor.
Comfort Is a Priority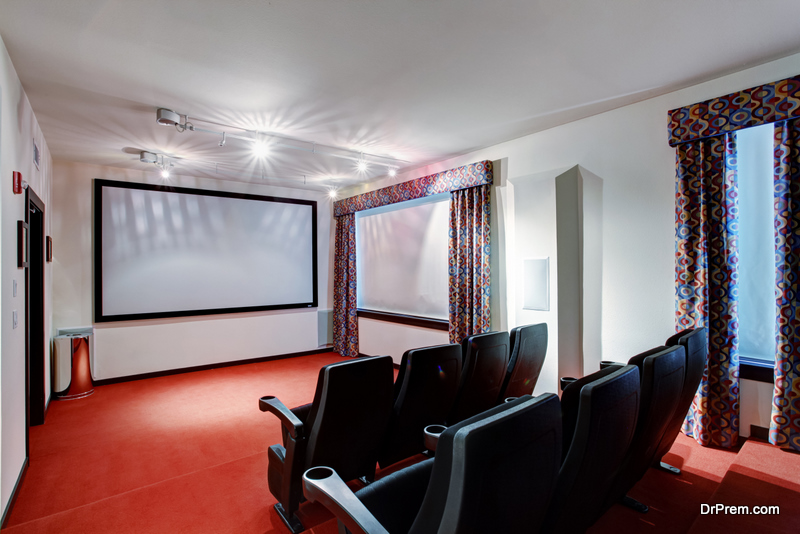 With well-chosen home theater furniture, even a smaller room can comfortably accommodate 2 to 4 people. For example, for a more romantic atmosphere, opt for large bed-like chairs or cozy floor pillows. These are not classic armchairs with backs, but more reminiscent of beds. This type of low seatings is not the best choice for small rooms. They take up a lot of space, but these will do if you don't plan more than 2 or 3 seats.
For more spacious movie rooms, you can also take foot places that complement the seatings. The best choice is large stools, which can also serve as additional seating if there are sometimes more people in your home theater than places.
For even more comfort, you can get a recliner, which instantly switches you from a sitting to a reclining position. That is an excellent choice if you go to the home theater after a hard day because you can completely relax on seats like this.
Think of Budget
Finances are a critical factor when choosing furniture for your home theater. You probably put a lot of money on a flat-screen, projector, and sound system when you made your movie room. But if you want to brag with your home theater, you will also need quality furniture.
Modern home theater seatings are not just a place to sit. For more comfort for you and your guests, some models have additional partitions, cup or remote-control holders, and even options for adjusting the backrest.
If you've envisioned your home theater solely as a place for a family, you don't have to spend too much money at seatings. For kids, the best choice is pillow floors or lazy bags that are very comfy. You can get low-end, but they are not too durable. But at least you won't be sorry if the kids spill something or tear them.
More ideas on designing home theater on a budget see here:
https://www.moneycrashers.com/home-movie-theater-design-installation/.
Home theater is not just a place to gather and entertain you and your loved ones. It's a place where you can nap, cuddle, and rest. You have to make it a corner that radiates comfort and a relaxed atmosphere. It is essential to make a good furniture layout to avoid chaos. That way, the experience of watching your favorite movie would be at the highest level.
Article Submitted By Community Writer