Any house can be a beach house, even when the shore is nowhere in site. Beachy coastal decor is in – and why shouldn't it be? Cool and calming, a beach-inspired focus transforms your home into a relaxing oasis.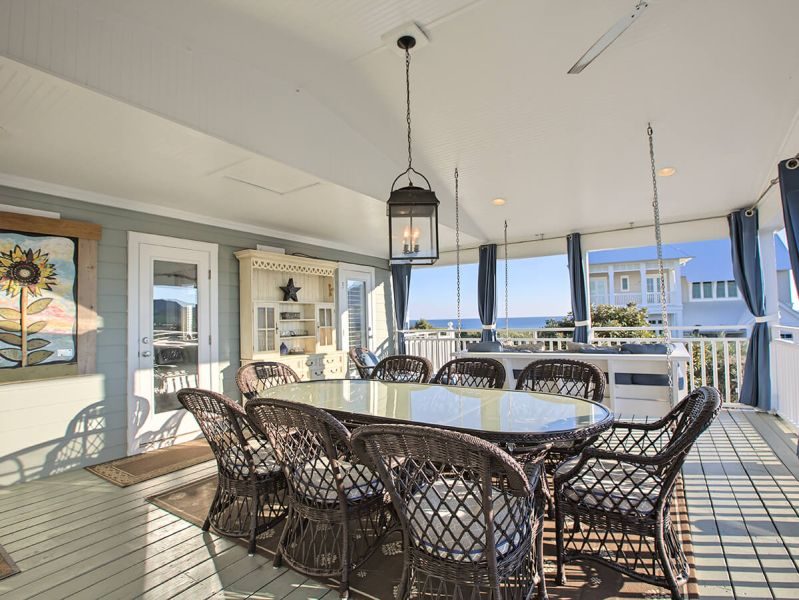 One seaside destination is gaining national notoriety with a strikingly stylish approach to beachy decor. Known as the Emerald Coast, this region located in Northwest Florida is a beachgoer's dream with glittering jewel-toned waters and pristine sugar white beaches.
Here along this coast residents and second home buyers with ample means have lavished their precious coastal residences with the kind of fashionable beach décor that is often featured in magazines. Two great examples of such works include "Morning Star" in Santa Rosa Beach and "My Margaritaville" in nearby Miramar Beach. If you desire to make your home "beachy keen" like these homes, it involves attention to furnishings, decorative arts, use of color and other added embellishments. Here is a look at these two beach homes and how they accomplished an attractive beach ambiance.
Furnishings that Create a Coastal Casual Look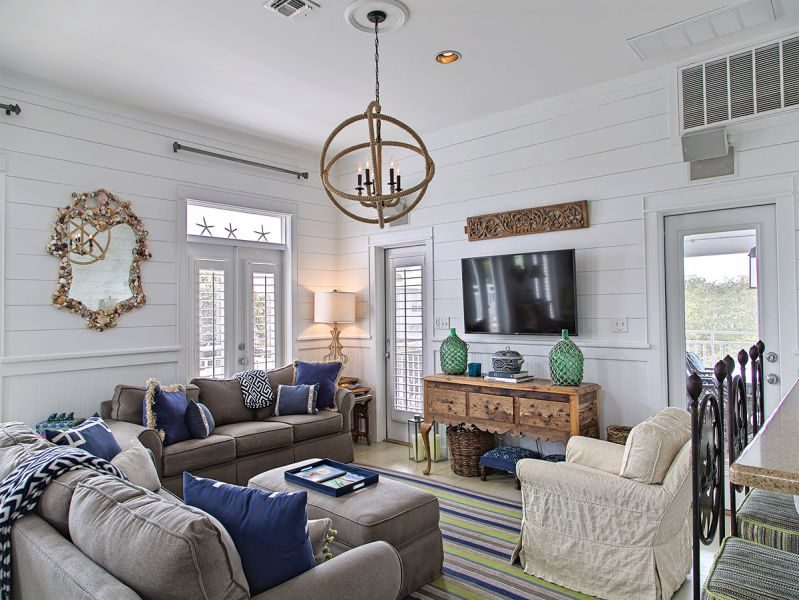 Whenever you furnish any home, it is always wise to have an eye for comfort, and this is absolutely essential when planning a beach-inspired look. Morning Star has a golden nostalgic Americana exterior with lots of columned balconies, covered porches and a pool patio for outdoor furnishings. This design inspired interiors that have a friendly coastal flair with the use of pastel earth tones and a soaring cathedral ceiling. White clapboard interior walls are accented by a washed beige hardwood flooring throughout. The living area includes a comfortable dove gray couch with a matching love seat, and a big white armchair facing a rustic antique table beneath a wall mounted TV. The open dining area beside the kitchen has a simple rectangular glass topped table with eight woven straw comfortably cushioned chairs in front of a fireplace that provides a charming country feel. The bedrooms have comfy cottage styling with cream-colored bedspreads decorated with pillows and throws that use a Laura Ashley type motif.
My Margaritaville has cheerful exteriors, and features covered rail balconies with silhouettes that subtly match the potted palms nearby. The interior living area has pale sky blue walls with a vaulted white ceiling adorned with rich beams that match the warm honey-toned hardwood flooring below. The open living area has a plush cream-colored couch with a matching love seat that face a whitewashed beachy coffee table and armoire that serves as an entertainment cabinet. The dining area nearby has six high backed white woven wicker cushioned chairs beside the open kitchen that features a white marble island and creamy old fashioned bead board custom cabinetry. Each bedroom has carefree attire with vibrant, colorful spreads and accent pillows.      
Delightful Decorative Art Throughout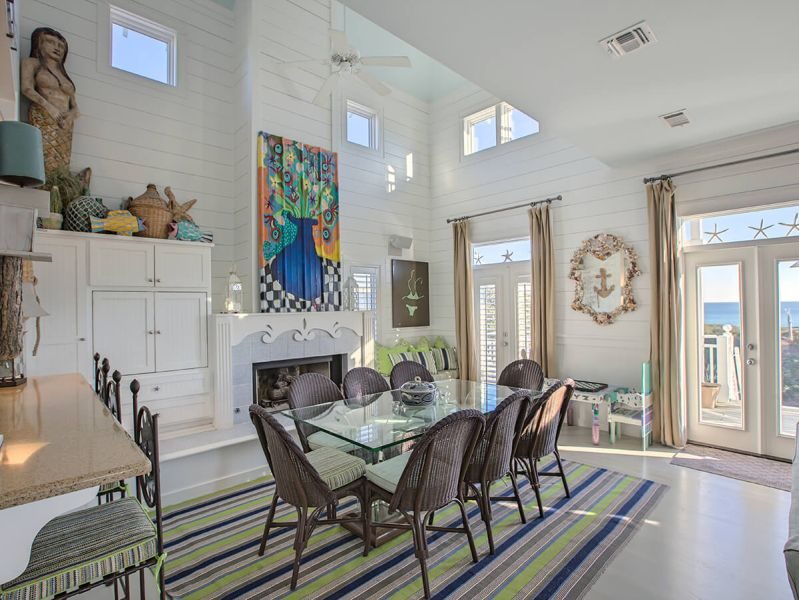 Essential accoutrements for the creation of a classic coastal look include unique decorative art that is inspired by the beach. These may be colorful or subtle but are always apparent. Morning Star uses a mix that consists of some bright paintings of flowers, a giant Mermaid sculpture accented by tropical fish, starfish, woven baskets, large green netted sea bottles, a hanging anchor and even a lovely little birdhouse.
My Margaritaville has decorative plates on the walls, a suspended fish trophy highlighting the top of the vaulted ceiling as well as whimsical sculpted sayings reminding you to "Relax," "Breathe" and enjoy the "Beach." Three pastel rainbow globes over the kitchen island and seagull sculptures on the window sill provide a cheerful touch. Bedrooms include bright colors in drapes and bedding with sherbet colored as well as palm patterned lampshades. One room has two giant flower prints over the beds and a white wicker chair with a large painted sunflower. 
Don't Forget about the Porches, Balconies, and Patios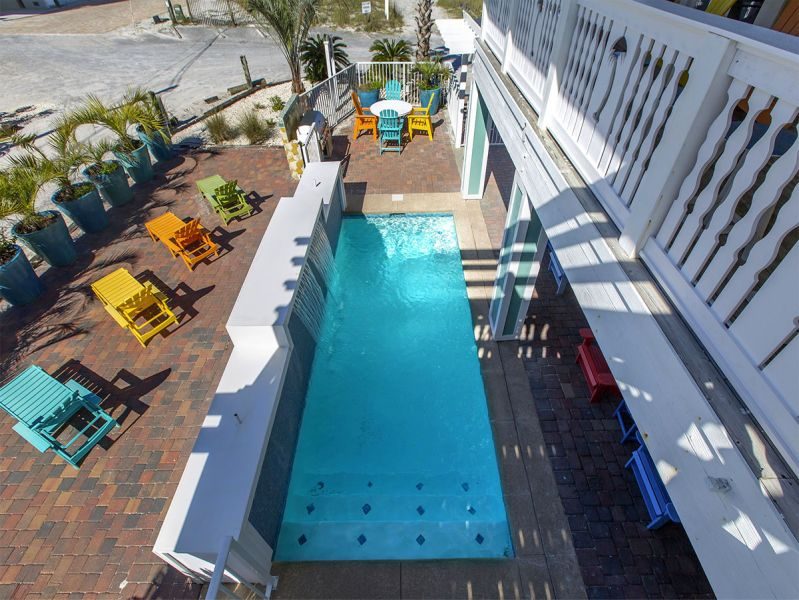 A beach lifestyle always includes outdoor living spaces with furniture to go with it. Morning Star has a large screened in porch off the living area with a tropically inspired dining set that includes eight wide woven chairs with an oval table that sits beneath a hanging coach lantern. A big bench swing with cushions and pillows hangs suspended nearby for outdoor views. The front veranda also has a porch swing along with white rocking chairs providing a friendly invitation to sit for a while. A pool out back has richly woven wicker based chaise lounges with comfortable blue cushions. My Margaritaville uses a wide assortment of classic Adirondack chairs on its porch and around a pool. They come in solid individual colors of the rainbow and include two tables for porch or poolside dining. Two additional white raised café tables have a pair of blue cushion topped stools for a relaxed nautical look.
Enjoy taking a look at each of these homes for the creation of a beach-inspired look for your own place. You might want to consider doing some fun research on location at either one of these homes or many others that dot the glorious gulf coast in Destin and along Scenic Gulf Drive in South Walton. Fashion is a passion here, and this privileged place is a trendsetter for au courant coastal beach homes along with accompanying lifestyles. You too may use some of this Floridian flair to create a look that is "beachy keen!"
Article Submitted By Community Writer