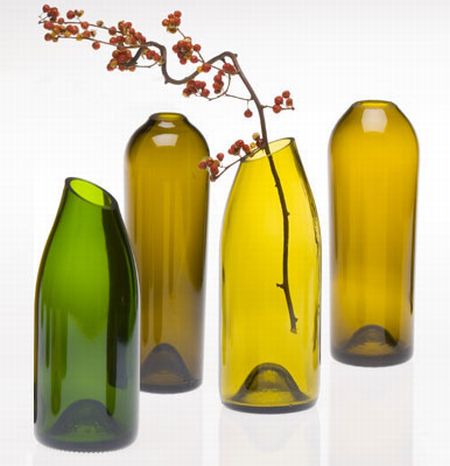 The empty and lifeless wine bottles that lie around the house can be put into use in numerous ways. Most of the time, these are sent to the recycling center. However, you will be surprised to know that these can be reused to make brilliant objects of home decor and utility. Just bring in a little bit of creativity. Read on to know more about these brilliant DIY tips!
Bottles to glasses

Cut the chosen wine bottle in the required size by following the steps below. When cut in the shape of the glass, you can either decorate it the way you want or get it etched from the local sand blaster. If you do not have access to the local sand blaster then you can even think of spray painting the glass. Here is how you can cut them at home. Follow the steps below:
a. Take the empty wine bottle and clean it in every possible way.
b. Now, with the help of the scoring tool that you brought from your nearby craft shop make a consistent scoring line around the bottle.
c. Once you have scored a line at predetermined size, light the candle to heat the bottle at the scored mark. Heat the bottle for around one minute and then pour cold water on it. You will have to repeat the process until the bottle suddenly breaks.
Bottles to vases

You can either use the wine bottle in its form and add some flowers to it or cut the wine bottle to fit in the larger bouquet. Wine bottle vases will surely look nice.
Bottles to cheese tray/plate

a. Clean the wine bottle in every possible way.
b. Now, place the bottle in the glass fusing kiln, which you can buy from the market or borrow if you think the investment is not worth it.
c. Fire the bottle in the kiln by using the schedule: Ramp ºF/Hr target temperature hold for 500 1100 10, 250 1300 0, AFAP 1475 10 (watch for slump), AFAP 960 30 and 150 750 0.
d. By now, the bottle should have melted to form the shape of the tray. Let the glass cool down and later you can decorate the tray in any way that you want.
e. If you think the procedure is too complicated, as I think so too, then you can buy these cheese trays from the market at a very reasonable prices.
Bottles to lighting: Twinkle light

These lights look so nice. Of course, you can create these at home. All you need is string of Christmas lights, empty wine bottle and drill. You can follow the steps here.
Bottles to lighting: Tiki torch

This torch, which can be installed indoors and outdoors alike. And, these will add such an old world charm to your home. You can follow the steps here.
Bottles to lighting: Wine bottle lamps

In this case, some vintage wine bottles will look better in place of the normal ones. You can follow the steps here.
Bottles to lighting: Wine bottle chandelier

You can even call this suspension lights with a difference. Wine bottles look really nice hanging from the ceiling. You can follow the steps here.
Best wine bottle chandeliers and design ideas
There was always a reason why households resisted in disposing off booze bottles after use. Be it their special shape or colored glass, this resistance has found a direction in being used for making chandeliers by patrons who crave for innovative ways to reuse the waste. Here is a list of top beer/wine bottle Chandelier designs which will make you drool and urge you to get one for your home:
1. Creative piece from Barlite
Although this is a Beer Bottle Chandelier; it is still worth a mention. You can choose to use this inspiration with your wine bottles as well. It is known for its diverse design and color combinations.The majorly used green, orange and white bottles makes amazing discotheque themed lighting for your home. Syncing the perfect lights with perfect music can soar your spirits any time.
2. Jerry Kott's 3 wine bottle chandelier
A finalist at the Bright ideas and Lighting Design Competition made this simple chandelier out of three wine bottles.The layered design of the bottles made incandescent lighting gives a "toned down but high on simplicity" look. Further into the future, the bottles would also be used for making table lamps.
3. The Pottery Barn Wine Bottle Chandelier
With a distinct and eye catching design; having this chandelier will surely add value to your home decor. Weighing 30 pounds and measuring 18″ in diameter, 33″ high, with a 6 foot chain for hanging, this chandelier above you would mean diffused color illumination.
4. Droog's wine bottle chandelier
One of Droog's Memory laden products is the Droog's wine bottle chandelier. It is extravagantly crafted by applying nature, the human experience and a fondness for the past. It contains both-artistic meaning and elegant beauty of frosted glass.
5. Leitmotiv Wine Bottle Chandelier
This chandelier is one which makes use of wine bottles along with wine flutes. It gives a stunning yet unusual focal point for any room.The light bulbs sit in the middle of the chandelier and let light spread evenly around the room.
6. Meyda Tiffany's 655456 light wine bottle chandelier
This is an unique handcrafted item and is a true work of art. Natural variation in the glass and finish makes it a masterpiece in its own. Includes canopy, 3 feet of chain and 4 feet of wire.
7. Lamp wine bottle chandelier chrome 
It is made from transparent and label less bottles reflects light in the purest way in a room. Light but with three loop chains give it a look worth it. This one can attract any ambling person from around to inside the room.
8. Vino Wine Glass Chandelier Pendant Lamp
This pendent lamp by leitmotiv is smaller in size but does justice to its name.Like a pendant it is captivating and cute.
9. The Pellegrino Bottle Chandelier
It looks just perfect hanging from a tree in your garden. Half cut, these bottle tops look great during evenings. Hanging at different heights alongside a length, these lights would make you fall in love.
10. Six-Light Green Wine Bottle Chandelier 
This is a one bottle and six lighted simple chandelier which gives a room its homely look .Available at Meyda's. Its a hand crafted piece of art. Authentic green glass bottles lend artistic impact and simplicity to these chandeliers. Colors like red and orange give pattern and range to the lighting.
Identity recreated for wine bottles
Once used, wine bottles are usually discarded. Of course, there are people who re-use them to make masterpieces. Helene Uffren's line of work is just one fine example of this. When I say reuse, she has just not made an eye candy of recycled art out of these wine bottles. She has created them in such a way that the bottles have a new identity and new use. She glues the top halves of wine bottle to the free blown bases, which she has designed. This helps her in creating 'hybrid multi-purpose' bottles. Further, bottom halves are fixed with free blown mini bottles as stoppers on top, creating multi-functional food jars.
Summery
The most intricate and innovative way in which man has learnt to decorate his home is a various kinds of home decor products. Light reflecting off this crystal structure mounted upon a ceiling merges mysticism and aura within a room. From french to Italian cut glass designs, lightening fixtures have come a long way in becoming a creative eye's inspiration. One of the most exquisite form of designing a chandelier now is from beer or wine bottles.