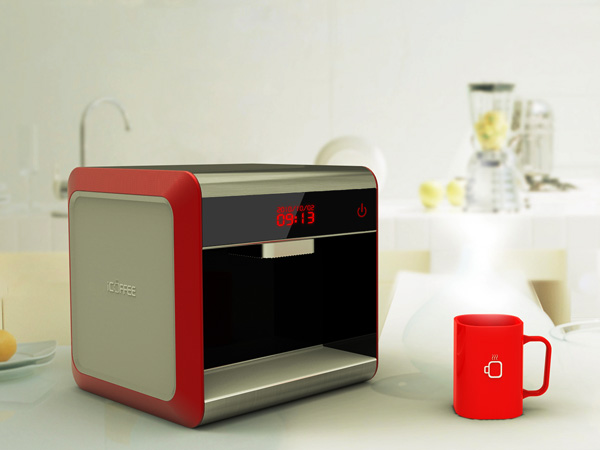 Almost everyone, at some point in life must have seen the sandwiches decorated with ketchup smileys for the kids at home. Have you ever seen coffee decorated by milk in a similar way at home? Coffee art just like decorated sandwiches not only perks up that dreary-looking coffee but perks up your mood as well. Most of you must be thinking that coffee art must be an art that would take hours or some training at the very least. What if you were told that no, it is not an art and does not require any training, it is simply a function of a cool-looking coffee machine.
Huang Guanglei has designed just such an iCoffee machine that can be synced with your smartphone using the Bluetooth device that is in-built in the iCoffee machine. Using this technology, you can transfer the image which you would like over your coffee in the form of coffee foam. The coffee maker has hidden outfalls for coffee and milk which are a 20×20 matrix of tiny holes. After receiving the image, the machine uses this matrix to place the milk in the form of the desired image. So be it a word or an image of hello kitty or a designer label, this maker can produce it all in the form of milk foam! Who would have thought that a coffee maker could be a printer as well? That it could print the image of your choice onto your coffee.
And the new-age coffee maker is not just limited to brewing coffee and adding to the the clutter in your kitchen. This one is stunning and bare-minimal design with its sleek cuts and adds style and charm to any kitchen. Its operating interface includes buttons for image, time, volume, etc. In the coming days, it is going to be a sure shot must have for every kitchen.
So, gone are the days of making simple coffee for your guests which was decorated with chocolate or cream at the most. Now, you can make your own cuppa with an image of your choice and earn the status of a gourmet chef. Impress the guests, perk up your mornings at home or in office, say I love you or sorry or thank you with your cup of joe. A lot can happen over coffee. After all, why should only kids get to have all the fun?
Via: Yankodesign