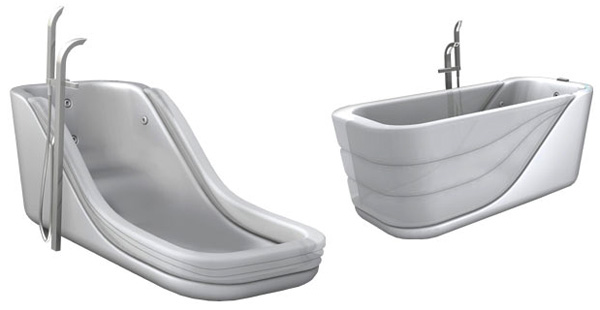 Designer: Su Pin Chia
Overview
High walled bathtubs are not an ideal choice if you want an ease of movement, in and out your bath tub. Moreover, they are quite inconvenient for old and physically impaired too. To address this problem, industrial designer Su Pin Chia has come up with red dot award winning design "Inflatable bathtub" that features an inflatable enclosure and air pump to inflate the collapsible walls of the tub.
This bath tub takes little space in bathroom and can be compacted when not in use by deflating it. It can also serve as a shower enclosure while in deflated mode to stop spillage of water.
What's Unique?
This bath tub has a vinyl membrane which can be inflated once you get in. The walls are collapsible and attached to a pump which is used to inflate the walls of the bathtub to give it a proper shape. By propelling water through built in jet fixtures, its air pump can transform it into a Jacuzzi tub.
via: Tuvie