Anyone looking to organize their collection of books in a quirky way is in luck, as Italy-based designer Viktor Matik has come up with an entirely new shelving unit concept. Instead of creating conventional rectangular or box-like shelving system, Matik has formed a shelf called 'www' that cleverly interprets digital communication and networking.
Although diagonal structures are not so popular in shelving systems, they offer multiple uses while adding aesthetic appeal to your home interior.  Likewise, the eccentric bookshelf is also designed to offer an eye-catching way to showcase your reading material.
Structure
The hexagonal frame of this shelf is made from wooden slats, which are geometrically aligned to form a furniture piece. To build shelves for storage, blue-colored strings are strung horizontally and diagonally within the frame. These blue strings form a striking contrast with whitish wood frame, providing both aesthetic and functional accent to any small or large living space. Moreover, strings are strong enough to withstand weight of all your books, and keep them arranged diagonally or horizontally.
Interpretation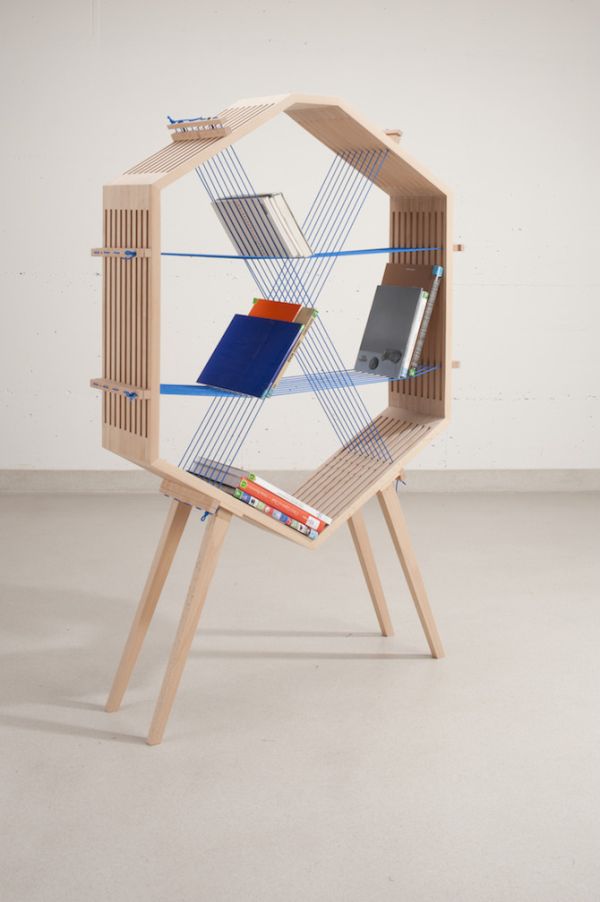 Theinterconnected strings not only create convenient storage space for your books, but also interpret a digital network. In today's world digital communication and networking are major parts of our life. Due to such high-speed internet, our real-time connection with other individuals and real books has changed a lot.
Today people prefer to interact with each other while sitting behind their respective computer screens and read only on ebooks. This huge broadband networking has been represented in form of this quirky furniture that's somehow depicting the power of digital content.
Usage
Over the years, hybrid objects are gaining popularity. This is because such objects combine two different ideologies in one unit, whiletransforming their shape into different spaces. Even this shelving system is a supremely functional piece of furniture that changes its shape according to current needs of the user.
It is available in both small and large sizes to fit into any living space with ease. Meanwhile, the intersecting and parallel strings will keep reminding you of the broad digital network. But in real this digital setup is designed to keep you away from virtual technological world, and bring you closer to real-time book reading experience.
'www' shelf is a versatile shelving unit that can alter as per the changing space and your current needs. Overall concept is to emphasize on desired quality in shelving system.
Source : Ignant.De